CELEBRITY NEWS: Faded RnB artiste George William Kigozi alias Geosteady has denounced his religion to convert to Islam and with his new Islamic name 'Hassan' Kigozi. Allahu Arkbar!
The singer took it to his official social wall and sent a tough warning to all pork joints around and within Kampala.
Fellow singer, Edrisa Musuuza aka Eddy Kenzo was among the witness as the 'Owooma' hitmaker took his 'Shahadah' at one of the mosques in the city.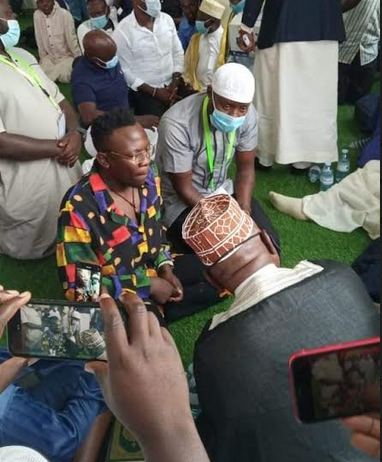 All this comes in a period where he bitterly broke up with longtime lover, Prima Kardashi who branded him a 'Bedroom Flop' title.
Prima moved on and found love with Galaxy Fm's presenter Mr. Henri of the mid-morning tukoone show ane the two are now an item, painting the dusty streets of the city red.
Ever since then, Geosteady has been riding on a bumpy road visibly showing he missed his wife Prima who they sire two kids together.
While in the mosque and in front of several Muslim clerics, the Finally hit maker asked to convert to Islam and he was asked to choose the Islamic name he wished to bear, as he dropped his Christian name, George.
Geosteady joins a list of other artistes who have converted to Islam including Joseph Mayanja aka Jose Chameleone who later converted back to christianity, and Grace Ssekamate, Vicent Ssegawa among others.
Do you have a story or an opinion to share? Email us on: dailyexpressug@gmail.com Or join the Daily Express WhatsApp Group or Telegram Channel for the latest updates.