BUSINESS, UGANDA: Premier Recruitment Limited, Ruparelia Group of companies owned by business mogul Dr. Sudhir Rupareila has secured a mega contract worth 800 jobs for Ugandans to work in Qatar.
According to a letter dated February 3, Alteqan Manpower Company, a Qatari human resource company, has contracted Premier Recruitment to export labourers to work as electricians (100), plumbers (50), mechanical engineers (100), painters (50), security guards (male and female – 200), waiters and waitress 200) and 100 other labourers bringing the total number of wanted workers to 850.
Sami Suleiman, the General manager of Aletqan Manpower, says lucky Ugandans to obtain a work visa for any of these jobs will be given a two year contract with a six months paid probation period with free accommodation from the employer company.
Salary for the workers shall range between QAR 100 (UShs1m) and QAR 1000 (UShs1.1m) depending on the job title.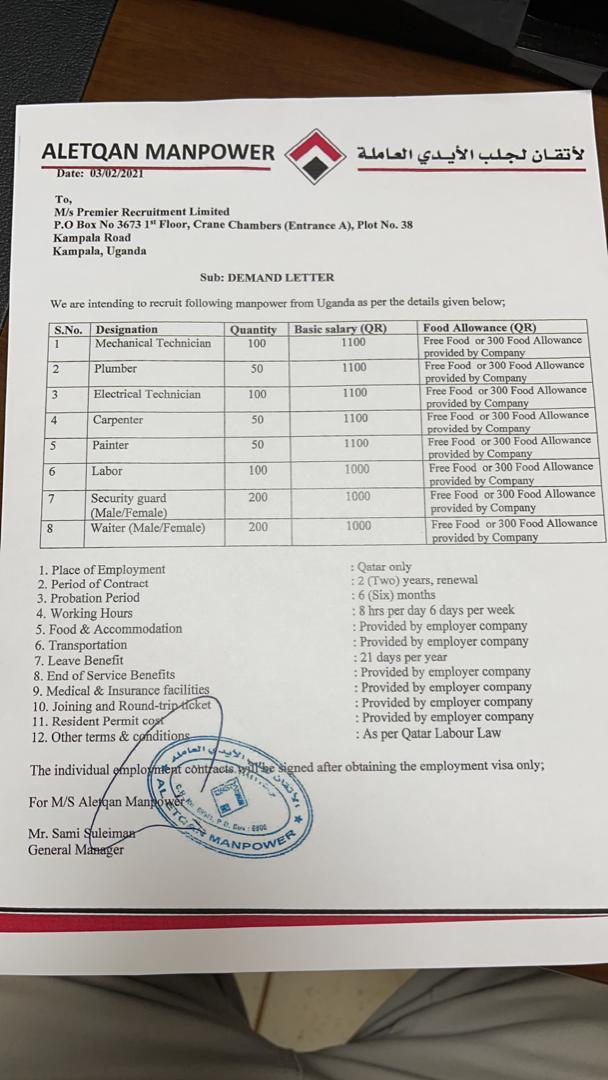 Medical and insurance, round trip ticket and resident permit will be provided by the employer company. The Ugandans who will have qualified for these jobs will have to live by and adhere to the Qatar Labor Laws.
Premier Recruitment Ltd is committed to helping reduce the high employment rate in Uganda by providing suitable job opportunities to unemployed Ugandans.
Recently Ministry of Gender, Labour and Social Development cleared Premier Recruitment Limited to recruit over 200 Ugandans to work in United Arab Emirates (UAE) and Saudi Arabia.
Do you have a story or an opinion to share? Email us on: dailyexpressug@gmail.com Or join the Daily Express WhatsApp Group or Telegram Channel for the latest updates.