Today marks the third day of the swearing in of the 11th parliament and by the end of Day two of the swearing in yesterday, a total of 265 MPs have so far taken oath (for the two days).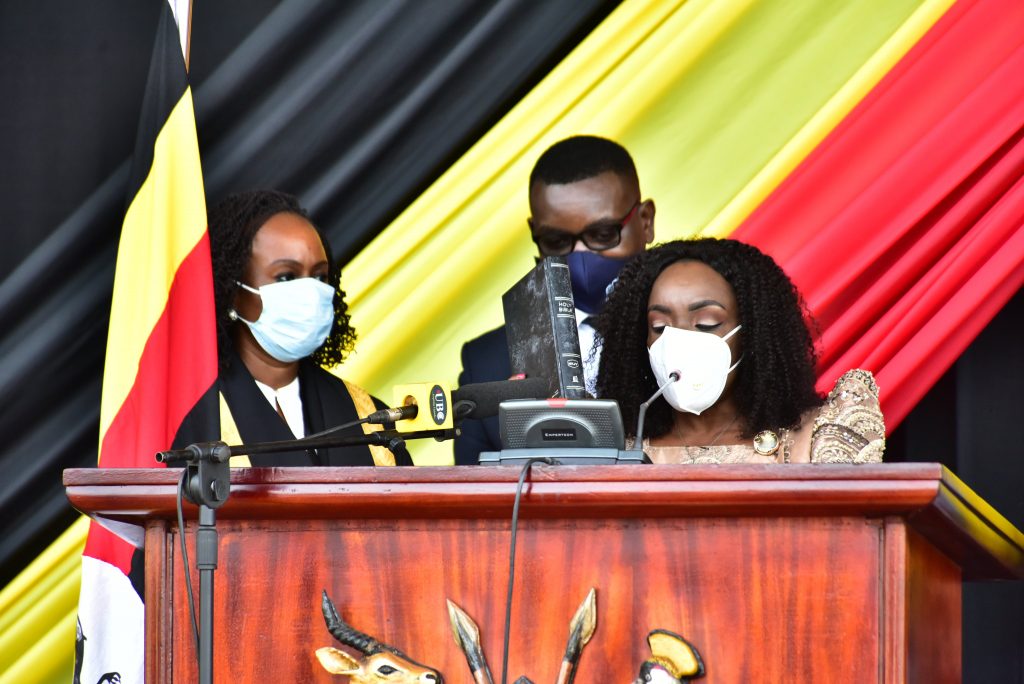 Today the event has resumed with various notable MPs taking oath among them are; the new Woman MP for Bugweri District, Hon Rachel Magoola, a famous musician with Uganda's oldest band, the Afrigo Band, Shamim Malende, Paul Lutamaguzi among others.
Below is the full list of 131 MPs swearing in on Wednesday;
LUGOLOOBI AMOS NTENJERU COUNTY NORTH KAYUNGA NRM
LUKWAGO JOHN PAUL MPALANYI KYOTERA COUNTY KYOTERA DP
LUKYAMUZI DAVID KALWANGA BUSUJJU COUNTY MITYANA NUP
LUMU RICHARD KIZITO MITYANA COUNTY SOUTH MITYANA DP
LUTAAYA GEOFREY KAKUUTO COUNTY KYOTERA NUP
LUTTAMAGUZI SEMAKULA PAULSON KASANA NAKASEKE SOUTH COUNTY NAKASEKE DP
LWANGA JIMMY NJERU MUNICIPALITY BUIKWE NUP
MACHO GEOFREY BUSIA MUNICIPALITY BUSIA INDEPENDENT
MAGOGO MOSES HASSIM BUDIOPE EAST COUNTY BUYENDE NRM
MAGOLO JOHN FAITH BUNGOKHO COUNTY NORTH MBALE NRM
11.MAGOOLA RACHEL MIRIEL DISTRICT WOMAN REPRESENTATIVE BUGWERI NRM
MAKHOHA MARGARET DISTRICT WOMAN REPRESENTATIVE NAMAYINGO INDEPENDENT
MALENDE SHAMIM DISTRICT WOMAN REPRESENTATIVE KAMPALA NUP
MAMAWI JAMES ADJUMANI EAST COUNTY ADJUMANI NRM
MANENO ZUMURA DISTRICT WOMAN REPRESENTATIVE OBONGI NRM
MASABA KARIM INDUSTRIAL DIVISION MBALE CITY INDEPENDENT
MASIKA APOLLO NAMISINDWA COUNTY NAMISINDWA NRM 18.MASIKO N. HENRY UPDF REPRESENTATIVE
MATOVU CHARLES BUSIRO COUNTY SOUTH WAKISO NUP
20.MAWANDA MICHAEL MARANGA IGARA COUNTY EAST BUSHENYI NRM
21.MAYANJA ALLAN NAKASEKE CENTRAL COUNTY NAKASEKE NUP
MBABAZI JANEPHER KYOMUHENDO DISTRICT WOMAN REPRESENTATIVE KAGADI NRM
MBABAZI PASCAL BUWEKULA COUNTY MUBENDE NRM
MBADI MBASU WILSON UPDF REPRESENTATIVE
25.MBAYO ESTHER MBULAKUBUZA DISTRICT WOMAN REPRESENTATIVE LUUKA NRM
MBOIZI ARTHUR WAAKO BUDAKA COUNTY BUDAKA INDEPENDENT
MBWATEKAMWA GAFFA IGARA COUNTY WEST BUSHENYI NRM
MIGADDE ROBERT NDUGWA BUVUMA ISLANDS COUNTY BUVUMA NRM
MODOI ISAAC LUTSESHE COUNTY BUDUDA NRM
MORIKU JOYCE KADUCU DISTRICT WOMAN REPRESENTATIVE MOYO NRM
MPINDI BUMALI PWD REPRESENTATIVE INDEPENDENT
MPUUGA MATHIAS NYENDO-MUKUNGWE DIVISION MASAKA CITY NUP
33.MUGABE DONONZIO KAHONDA RUHINDA SOUTH COUNTY MITOOMA NRM
MUGABI MUZAALE MARTIN KISULE BUZAAYA COUNTY KAMULI NRM
MUGABI SUSAN DISTRICT WOMAN REPRESENTATIVE BUVUMA NUP
MUGEMA PETER IGANGA MUNICIPALITY IGANGA INDEPENDENT
MUGIRA JAMES UPDF REPRESENTATIVE
MUGISA MARGARET MUHANGA FORT PORTAL NORTH DIVISION FORT PORTAL CITY NRM
MUGOLE MAUKU DAVID STEPHEN KABWERI COUNTY KIBUKU NRM
MUGUMYA CLARE DISTRICT WOMAN REPRESENTATIVE ISINGIRO NRM
MUHEESI ABAHO JENIFER DISTRICT WOMAN REPRESENTATIVE KAZO NRM
42.MUHINDO HAROLD TONNY BUKONZO COUNTY EAST KASESE FDC
MUHOOZI R. DAVID UPDF REPRESENTATIVE
MUHUMUZA DAVID MWENGE COUNTY NORTH KYENJOJO NRM
MUHWEZI JIM KATUGUGU RUJUMBURA COUNTY RUKUNGIRI NRM
MUKASA ALOYSIUS TALTON GOLD RUBAGA DIVISON SOUTH KAMPALA NUP
47.MUKASA JULIUS OPONDO BUJUMBA COUNTY KALANGALA INDEPENDENT
MUKHAYE MIRIAM DISTRICT WOMAN REPRESENTATIVE MBALE INDEPENDENT
MULIMBA JOHN SAMIA-BUGWE COUNTY NORTH BUSIA NRM
MUSA NOAH KOBOKO NORTH COUNTY KOBOKO INDEPENDENT
MUSANA ERIC BUYAGA EAST COUNTY KAGADI INDEPENDENT
MUSASIZI HENRY ARIGANYIRA RUBANDA COUNTY EAST RUBANDA NRM
53.MUSEVENI WILLIAM BUWEKULA SOUTH COUNTY MUBENDE INDEPENDENT
MUSHEMEZA ELIJAH DICKENS SHEEMA COUNTY SOUTH SHEEMA INDEPENDENT
55.MUSHERURE SHARTS NAYEBARE KUTESA MAWOGOOLA NORTH COUNTY SSEMBABULE INDEPENDENT
MUSILA JOHN BUBULO EAST COUNTY NAMISINDWA INDEPENDENT
MUSINGUZI YONA NTUNGAMO MUNICIPALITY NTUNGAMO NRM
MUTASINGWA DIANA NANKUNDA KAGYENYI DISTRICT WOMAN REPRESENTATIVE BUIKWE NRM
MUTEBI NOAH WANZALA NAKASONGOLA COUNTY NAKASONGOLA NRM
MUTEMBULI YUSUF BUNYOLE EAST COUNTY BUTALEJA NRM
61.MUTIWA GEOFREY ERIC BUNYOLE WEST COUNTY BUTALEJA NRM
62.MUTONO PATRICK LODOI BUTEBO COUNTY BUTEBO NRM
MUTUMBA ABDUL KIBOGA WEST COUNTY KIBOGA NRM
MUTUUZO PEACE REGIS DISTRICT WOMAN REPRESENTATIVE BUNYANGABU NRM
65.MUWANGA KIVUMBI MUHAMMAD BUTAMBALA COUNTY BUTAMBALA NUP
66.MUWUMA MILTON KALULU KIGULU COUNTY SOUTH IGANGA NRM
MWESIGWA ROBERT RUKAARI MBARARA NORTH DIVISION MBARARA CITY NRM
MWIJUKYE FRANCIS BUHWEJU COUNTY BUHWEJU FDC
MWINE MPAKA RWAMIRAMA MBARARA SOUTH DIVISION MBARARA CITY NRM
NABAGABE KALULE FLAVIA DISTRICT WOMAN REPRESENTATIVE KASSANDA NUP
71.NABBANJA ROBINAH DISTRICT WOMAN REPRESENTATIVE KAKUMIRO NRM
NABUKEERA HANIFA HUSSEIN DISTRICT WOMAN REPRESENTATIVE MUKONO NUP
73.NABUKENYA BRENDA DISTRICT WOMAN REPRESENTATIVE LUWEERO NUP
74.NAFUNA-MULONI IRENE MARGARET DISTRICT WOMAN REPRESENTATIVE BULAMBULI NRM
NAIGAGA MARIAM DISTRICT WOMAN REPRESENTATIVE NAMUTUMBA NRM
NAJJUMA SARAH DISTRICT WOMAN REPRESENTATIVE NAKASEKE NRM 77.NAKABUYE JULIET KAKANDE WOMAN REPRESENTATIVE MASAKA CITY NUP
NAKADAMA RUKIA ISANGA DISTRICT WOMAN REPRESENTATIVE MAYUGE NRM
79.NAKATO MARY ANNET DISTRICT WOMAN REPRESENTATIVE BUYENDE INDEPENDENT
80.NAKAYENZE CONNIE GALIWANGO WOMAN REPRESENTATIVE MBALE CITY INDEPENDENT
81.NAKAZIBWE HOPE GRANIA DISTRICT WOMAN REPRESENTATIVE MUBENDE NRM
82.AKIMULI HELEN DISTRICT WOMAN REPRESENTATIVE KALANGALA NUP
83.NAKUT FAITH LORU DISTRICT WOMAN REPRESENTATIVE NAPAK NRM
84.NAKWANG CHRISTINE TUBO DISTRICT WOMAN REPRESENTATIVE KAABONG NRM
NALULE ASHA AISHA KABANDA DISTRICT WOMAN REPRESENTATIVE BUTAMBALA NUP
NALUYIMA BETTY ETHEL DISTRICT WOMAN REPRESENTATIVE WAKISO NUP
87.NAMANYA NABOTH RUBABO COUNTY RUKUNGIRI FDC
88.NAMBESHE JOHN BAPTIST MANJIYA COUNTY BUDUDA NUP
89.NAMBOOZE TEDDY DISTRICT WOMAN REPRESENTATIVE MPIGI NUP
NAMUGANZA PERSIS PRINCESS BUKONO COUNTY NAMUTUMBA NRM
91.NAMUGGA GORRETH MAWOGOOLA COUNTY SOUTH SSEMBABULE NUP
92.NAMUJJU CISSY DIONIZIA DISTRICT WOMAN REPRESENTATIVE LWENGO NRM
NAMUKUTA BRENDA DISTRICT WOMAN REPRESENTATIVE KALIRO NRM
NAMUTAAWE JOAN DISTRICT WOMAN REPRESENTATIVE MASAKA INDEPENDENT
95.NAMUYANGU KACHA JENIPHER DISTRICT WOMAN REPRESENTATIVE KIBUKU NRM
96.NANDAGIRE CHRISTINE NDIWALANA BUKOMANSIMBI NORTH COUNTY BUKOMANSIMBI NUP
97.NANDALA MAFABI NATHAN JAMES BUDADIRI COUNTY WEST SIRONKO FDC
98.NANDUTU AGNESS DISTRICT WOMAN REPRESENTATIVE BUDUDA INDEPENDENT
99.NANGOLI GERALD ELGON NORTH COUNTY BULAMBULI NRM
NANTABA IDAH ERIOS DISTRICT WOMAN REPRESENTATIVE KAYUNGA INDEPENDENT
101.NANTONGO FORTUNATE ROSE DISTRICT WOMAN REPRESENTATIVE KYOTERA DP
NANYONDO VERONICA NAMAGANDA DISTRICT WOMAN REPRESENTATIVE BUKOMANSIMBI NUP
NATUKUNDA MIDIUS DISTRICT WOMAN REPRESENTATIVE RUKUNGIRI NRM
NATUMANYA FLORA DISTRICT WOMAN REPRESENTATIVE KIKUUBE NRM
NAYEBALE SYLVIA DISTRICT WOMAN REPRESENTATIVE GOMBA NRM
NDEEZI ALEX PWD REPRESENTATIVE NRM
NDYOMUGYENYI ROLAND RUKIGA COUNTY RUKIGA INDEPENDENT
NEBANDA ANDIRU FLORENCE DISTRICT WOMAN REPRESENTATIVE BUTALEJA NRM
NEKESA VICTOR UPDF REPRESENTATIVE
NGOMPEK LINOS KIBANDA NORTH COUNTY KIRYANDONGO NRM
NGOYA JOHN BOSCO BOKORA COUNTY NAPAK NRM
NINKUSIIMA JOHN PAUL IBANDA COUNTY SOUTH IBANDA NRM
NINSIIMA BOAZ KASIRABO KOOKI COUNTY RAKAI NRM
NIRINGIYIMANA JAMES RUUGI KABERUKA KINKIZI COUNTY WEST KANUNGU NRM
NIWAGABA WILFRED NDORWA COUNTY EAST KABALE INDEPENDENT
NIYONSABA ALEX BUFUMBIRA COUNTY SOUTH KISORO NRM
NKUNYINGI MUWADA KYADONDO COUNTY EAST WAKISO NUP
NKWASIIBWE ZINKURATIRE HENRY RUHAAMA COUNTY NTUNGAMO NRM
NSAMBA PATRICK OSHABE KASSANDA COUNTY NORTH KASSANDA NUP
NSANJA PATRICK KAYONGO NTENJERU COUNTY SOUTH KAYUNGA INDEPENDENT
NSEGUMIRE MUHAMAD KIBEDI MITYANA COUNTY NORTH MITYANA NRM
NSEREKO MUHAMMAD KAMPALA CENTRAL DIVISION KAMPALA INDEPENDENT
NSIBAMBI YUSUF MAWOKOTA COUNTY SOUTH MPIGI FDC
NSUBUGA PAUL BUSIRO COUNTY NORTH WAKISO NUP
NYAKATO ASINANSI DISTRICT WOMAN REPRESENTATIVE HOIMA CITY FDC
NYAKATO DOROTHY DISTRICT WOMAN REPRESENTATIVE KITAGWENDA NRM
NYAKIKONGORO ROSEMARY DISTRICT WOMAN REPRESENTATIVE SHEEMA NRM
NYAMUTORO PHIONA YOUTH REPRESENTATIVE FEMALE NRM
NYANGWESO DENIS SAMIA-BUGWE CENTRAL COUNTY BUSIA INDEPENDENT
NYEKO DERRICK MAKINDYE DIVISION EAST KAMPALA NUP
NYIRABASHITSI SARAH MATEKE DISTRICT WOMAN REPRESENTATIVE KISORO NRM
NYONGORE ENOCK NAKASEKE NORTH COUNTY NAKASEKE NRM
Do you have a story or an opinion to share? Email us on: dailyexpressug@gmail.com Or join the Daily Express WhatsApp Group or Telegram Channel for the latest updates.