KAMPALA: Fountain Publishers long-serving employee Mr. Alex Bangirana is dead. Bangirana reportedly passed away last evening after developing Covid-19 related symptoms.
Although family sources declined to disclose to affirm that he was suffering from coronavirus, Bangirana is said to have been battling diabetes for long before developing cold flue and cough at the time of his death.
As a long-serving, Banigrana joined Fountain Publishers in 1995 where he used to manage the publishing process also known as a manuscript to market. At his time of death, the deceased was the Business Development Manager at Fountain Publishers Limited, Uganda's largest book publishing agency.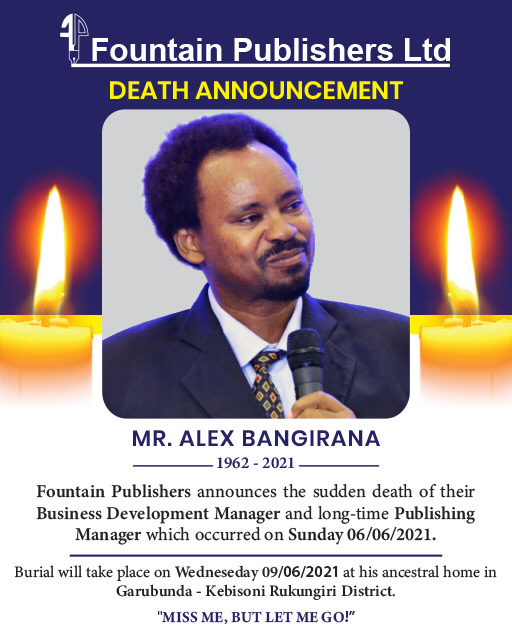 According Mr Odoobo Bichachi, the Public Affairs Editor at Nation Media Uganda, also a long-time Consulting Editor at Fountain Publishers who worked with Bangirana closely described the late as a warm person whose work impacted the growth of book publishing in Uganda but also Africa.
"Alex was very warm personality, creative, friendly and brilliant and just two weeks ago, we were discussing a few book projects . But all in all as the world of book publishing industry, we have lost an icon who should be inheriting from the old generations" Mr Bichachi told Eagle Online
Bangirana will be laid to rest on Wednesday (tomorrow) June 9, 2021 at his ancestral home in Garubunda – Kebisoni village in Rukungiri District.
Do you have a story in your community or an opinion to share? Email us on: [email protected] Or Click Here join the Daily Express WhatsApp Group or join our Telegram Channel here to stay up-to-date.