HOIMA DISTRICT: A 13-year-old girl in Hoima has committed suicide by hanging herself after getting harsh comments from her parents and neighbours for performing poorly in the recently released 2020 PLE Results.
The deceased is identified as Daphine Nakimuli, is a resident of Kinuubi East, Bwikya Ward in Mparo division, Hoima City.
Nakimuli had just completed her PLE at Bwikya Primary School where she obtained 28 aggregates in the four subjects which according to neighbors, her parents and siblings scolded her for failing the exams and wasting their money in paying her school fees.
Before her death, the girl left a note behind describing how she was feeling unloved, describing how her siblings and parents were scolding her over her performance in the PLE results, and that she had decided to take her own life to get rid of that.
In a suicidal note left behind before hanging herself, Nakimuli mentioned several people whom she described as her enemies.
She also claimed that there were people laughing at her for performing poorly in PLE and said she had decided to leave her purported enemies "to enjoy their world as she was going somewhere else."
However, she was quick to advise her fellow children and relatives never to commit suicide and encouraged them to live happily.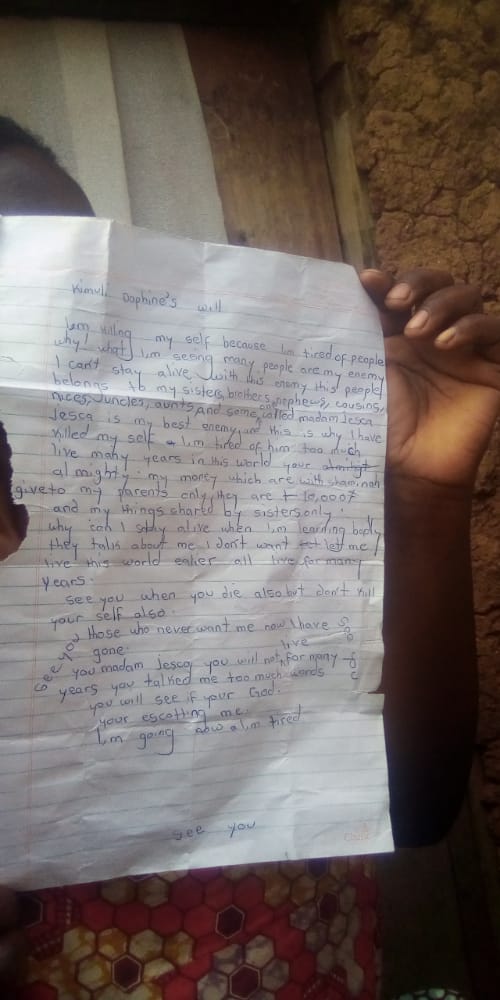 Allan Julius Hakiza the Albertine Region Police Spokesperson confirmed the incident and said police had already kicked off investigations into the juvenile's death.
Hakiza said the hanging body was discovered by a 35-year-old neighbor who reported the matter to Kinuubi police post.
He added that two people have been arrested to help with investigations.
One of the suspects was allegedly found with Nakimuli's note which she kept without informing the girl's family, only to bring it to their attention after her death. She said Nakimuli had given her the note.
The other suspect is Mrs. Jesca, one of the people the deceased described as her "enemies" in the note.
The suspects are currently held at Hoima central police station.
The school headteacher at Bwikya PS, Mr Francis Bagonza described Kimuli as a quiet and well-disciplined pupil.
Do you have a story in your community or an opinion to share? Email us on: [email protected] Or Click Here join the Daily Express WhatsApp Group or join our Telegram Channel here to stay up-to-date.