The 2020 Uganda Certificate of Education (UCE) results will be released tomorrow (Friday), the Education Minister and first lady Hon. Janet K Museveni has confirmed.
"I will release the 2020 UCE results this Friday, the 30th of July, 2021 at 12pm and it will be live on all major TV and radio stations," reads part of the message from the Minister's official Twitter account.
Speaking to Daily Express in a phone interview, Ms. Jennifer Kalule Musamba, the Principal Public Relations Officer at UNEB said the results will be released at a scientific release at State House, Nakasero involving a few invited guests, according to Education Ministry officiated by the First Lady and UNEB Top Executives.
"The release exercise will be conducted scientifically, in observance of the COVID-19 Standard Operating Procedures (SOPS) at noon," she told this reporter on Wednesday.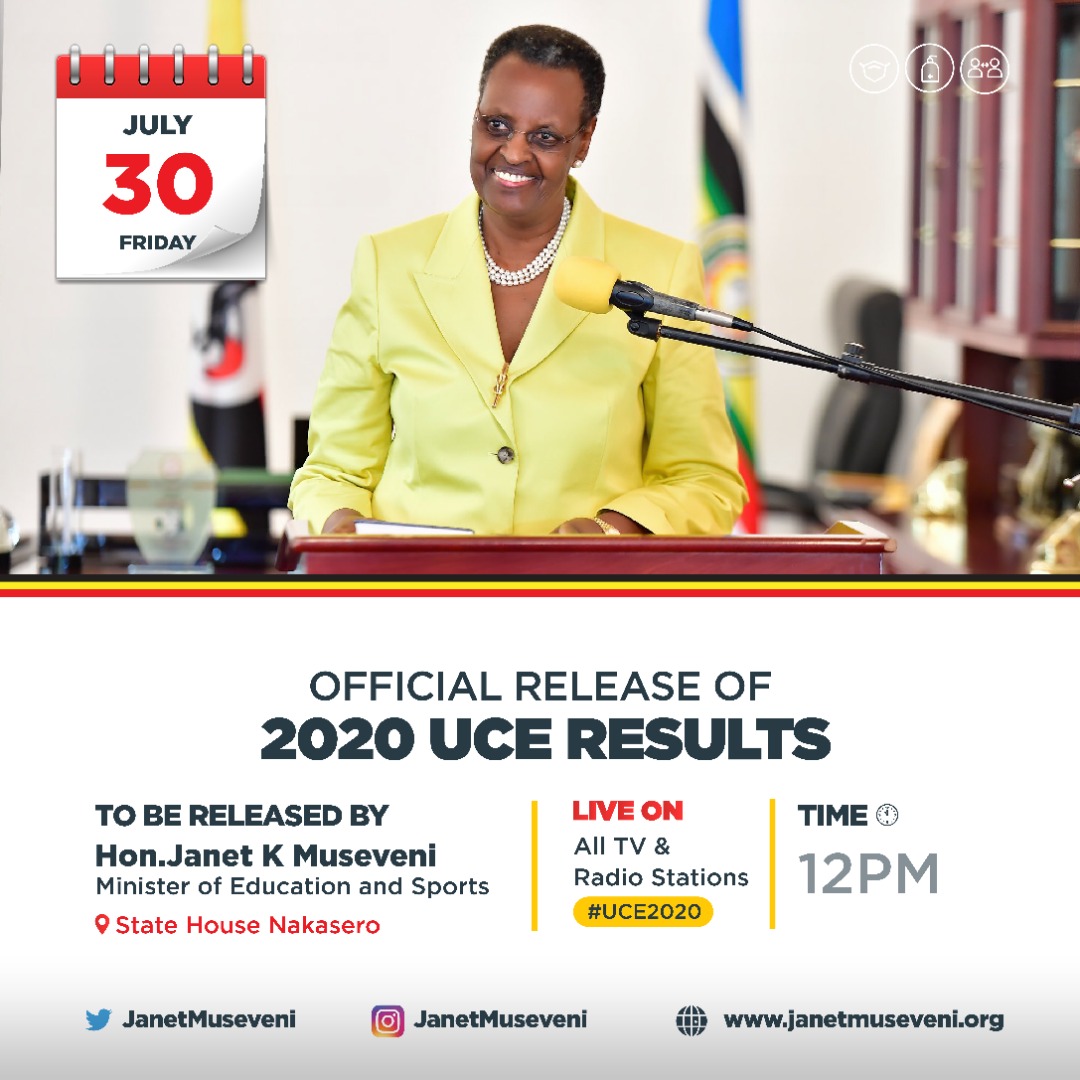 How 2020 UCE results will be accessed
Mrs. Kalule advised that schools will access the results through the UNEB portal, the same they used to register candidates
"Heads of UCE Examination Centers will download the results from their portals as soon as they are released. No hard copy result slips will be issued from UNEB offices until conditions are more favorable," she said.
"Candidates, their parents, and any other person wishing to access results may do so through their mobile phones. Simply go to the Message Menu & type UCE, leave space, type the correct index No.of the candidate e.g. U0000/001 send to 6600 on the MTN & Airtel networks, " she explained.
A total of 333,889 candidates registered for the examination out of whom, 50.1% were females while 49.8% were males.
At least 148,135 of the candidates were funded by the government under the Universal Secondary Education (USE) Program.
185,754 candidates registered as Non-USE candidates, while 47 candidates registered from Upper Prison Inmates Secondary School, Luzira.
Do you have a story in your community or an opinion to share? Email us on: [email protected] Or Click Here join the Daily Express WhatsApp Group or join our Telegram Channel here to stay up-to-date.