Bukoto Heights Apartments, Kampala's fully furnished luxury accommodation spot has unveiled a crazy promo package dubbed "Stay for 7, pay for 6" with discount rates to reward their loyal with a timeless stay at the swanky apartments.
In this promo valid since August, at a small payable fee of USD 80 per night, one enjoys a timeless luxury stay in a single room, while for USD110 per night you stay in a two-bedroom apartment and USD140 per night for 3 bedrooms.
However, to enjoy the timeless luxury stay offer, one has to book for 6 days and is rewarded with a free extra day to make it a full week of stay at the swanky Bukoto Heights apartments.
The management also further revealed to this website that clients will enjoy free complimentary usage of health club, swimming pool, steam, and sauna among services while staying at the apartments. This is on top of its tasted and proven classic services accommodation facilities and luxury dining restaurants.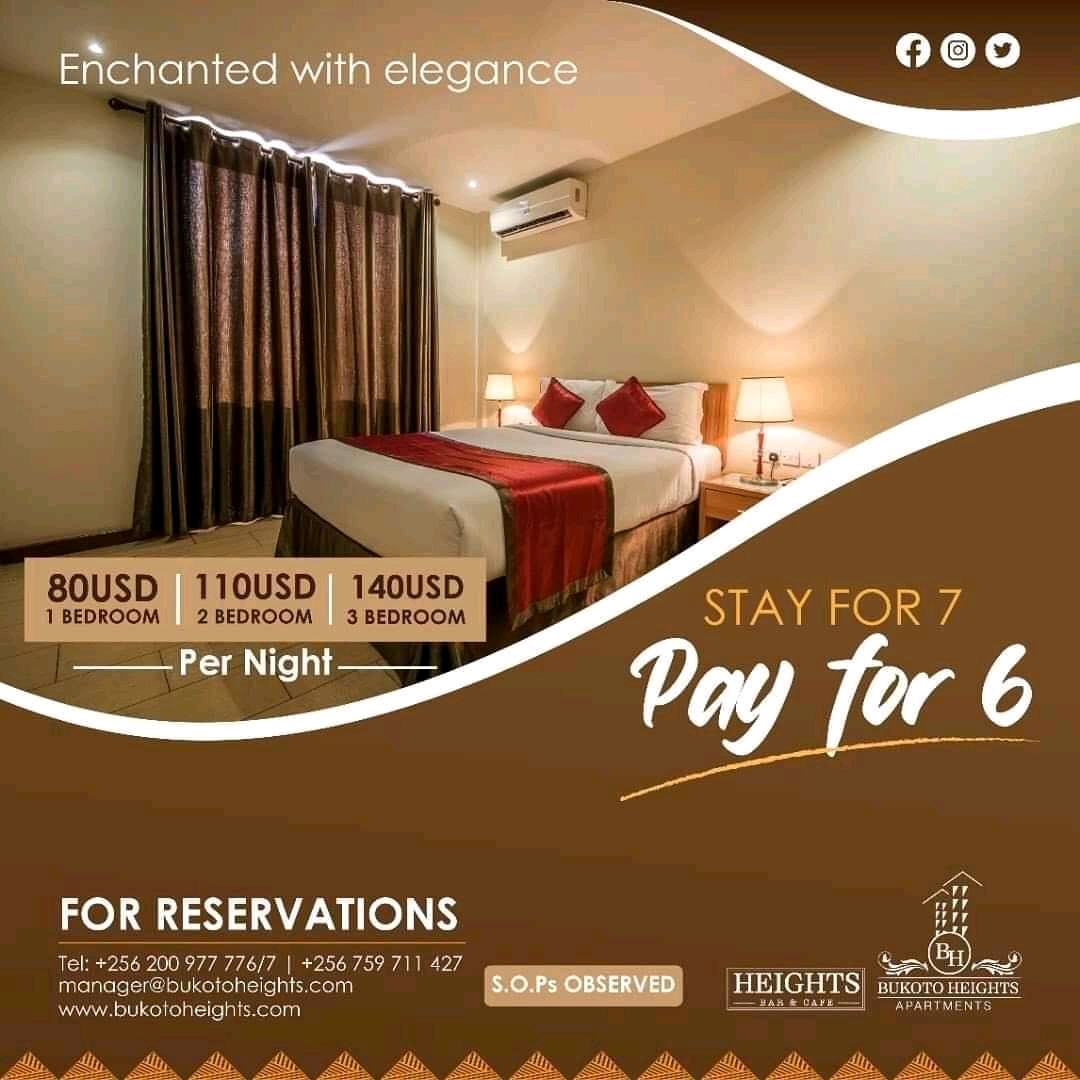 About the Bukoto Heights Apartments
Bukoto Heights apartments is a property of Ruparelia group of companies located within close proximity of the Central Business District, with convenient access to all parts of the city, and essential social amenities, like shopping centers, prime residential and international diplomatic neighborhoods, international schools and the golf course in the heart of the city. With stunning views of the greater Kampala cityscape.
The Apartments are fully serviced in the heart of Kampala offering a home environment that is inviting and comfotable, making short and long stays a very enjoyable experience.
Bukoto Heights' range of accommodation suits all guests, whether you are the business traveller that requires a standard apartment, travelling leisurely with your partner and require a luxuriously spacious apartment or have even taken the kids along for the ride and require family accommodation.
These 97 brand new tastefully furnished modern apartments are a real home from home. With premium design and decor, guests can maintain the independence they enjoy at home, with all the comfort and amenities of a full-service hotel in Kampala's northern suburb of Bukoto.
To make bookings for this Father's Day Special Package at Bukoto Heights, Call the hotel on +256 200 977 776/7 or Mobile:+256 759 711 427. Or Book through the website at www.bukotoheights.com
Do you have a story or an opinion to share? Email us on: dailyexpressug@gmail.com Or join the Daily Express WhatsApp channel for all the latest news and trends or join the Telegram Channel for the latest updates.