EDITORIAL CHOICE: Known for its glamourous and sumptuous services to its clients via a couple of offers, Speke Resort Munyonyo and Munyonyo Commonwealth Resort have unveiled a mega offer dubbed 'Calabash Spa Executive Pampering' that will see all customers offered a couple of goodies at a fair price.
The Daily Express has learnt that under this Calabash Spa offer, the swanky hotel will give two guests a night's accommodation on half board basis, 60 minutes spa treatment, a complimentary bottle of bubbly, access to the swimming pool, gym, steam, and sauna.
The hotel has since rated their accommodation fees fairly, switching to Garden Villas at UGX1,062,000, Executive Suite at UGX1,157,000 and for its Cottages, at UGX1,185,000 while the presidential Suite is accessible at UGX1,825,000. It has also been established that the offer is valid every day of the week till 31st, September 2021.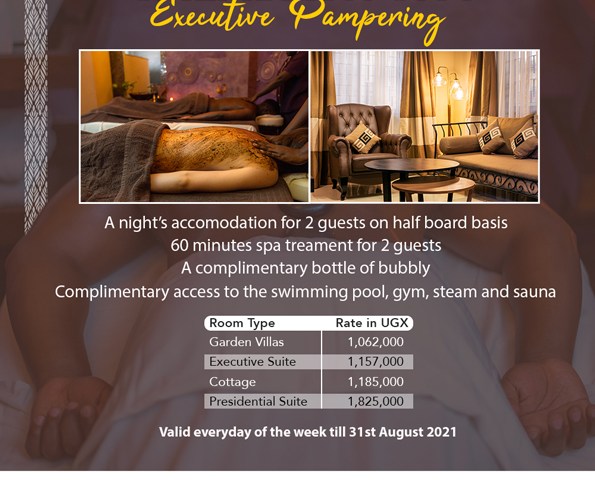 This website understands that the gentle pace of life within the resort will help you relax and focus on the extensive spa/wellness treatments anything from a simple Swedish massage to an Indian head massage.
Unique amongst the resort are dining spaces that offer breath-taking lake views and are surrounded by fragrant, tropical blossoming trees, with the melodious sound of waves, monkeys, and birds at flight.
Also, at the resort, one feels comfortable while sitting at a table under a grass thatched roof or simply lounge by the pool with drinks in hand while dining on whole Tilapia fish and burgers amongst others.
For those who have never had a moment at sumptuous Munyonyo Commonwealth Resort and Conference Centre note that leisure is all about serendipity — please don't, miss this offer? pass by Speke Resort and Munyonyo Commonwealth Resort
The hotel is located at Wavamunno Road, P. O. Box 446, Kampala Uganda. You can also reach them via +256 (0)752 711 714, +256 (0)414 227 111, +256 (0)417 716 000.
Do you have a story or an opinion to share? Email us on: dailyexpressug@gmail.com Or join the Daily Express WhatsApp Group or Telegram Channel for the latest updates.