KAMPALA, UGANDA: Celebrated City Lawyer and Human Rights Defender Mr. Isaac Ssemakadde has joined the long list of prominent persons congratulating City Tycoon Dr. Sudhir Ruparelia upon his supreme court victory in the multibillion Crane bank case saga.
The entire Ruparelia Group is in a celebratory mood after the Bank of Uganda (BoU) representing Crane Bank Limited (In Receivership) on Wednesday agreed to withdraw its Supreme Court appeal against Businessman Sudhir and Meera Investments. The embattled bank in its withdrawal sheet also agreed to pay billions in costs as compensation for the time wasted on the case.
Through his law firm, the Legal Brains Trust, Lawyer Isaac Ssemakadde has congratulated Sudhir upon the landmark victory saying the well-deserved achievement unearthes the rot in the near-defunct Central Bank and its corrupt lawyers and accountants who for so long continued to waste the taxpayers' money.
"Dr. Sudhir Ruparelia, congratulations upon your historic, hard-fought, and well-deserved Supreme Court Victory against the Bank of Uganda. You withstood insult and innuendo, you ignored naysayers and doomsday prophets, and you focused on the basic principles of law and you have been vindicated," Lawyer Ssemakadde said in a congratulatory message.
Mr. Ssemakadde also commended the efforts shielded by Sudhir's son, Mr. Rajiv Ruparelia right from the word go when this case started being heard in court until ints near-closure.
"We also congratulate your son Rajiv Ruparelia for effectively coordinating this mighty pushback effort, and thank you for entrusting him with such an important task," he said.
The celebrated rights defender lastly applauded the unwavering legal support and advice from Sudhir's legal team led by Senior Counsel Peter Kabatsi of Kampala Associated Advocates for relentlessly fighting hard to see that BOU and its corrupt officials are floored in this multibillion case.
"Lastly, we congratulate your heavyweight legal team at Kampala Associated Advocates overseen by Senior Counsel Peter Kabatsi for articulating the case from the High Court to the Supreme Court, with sublime adroitness and dexterity."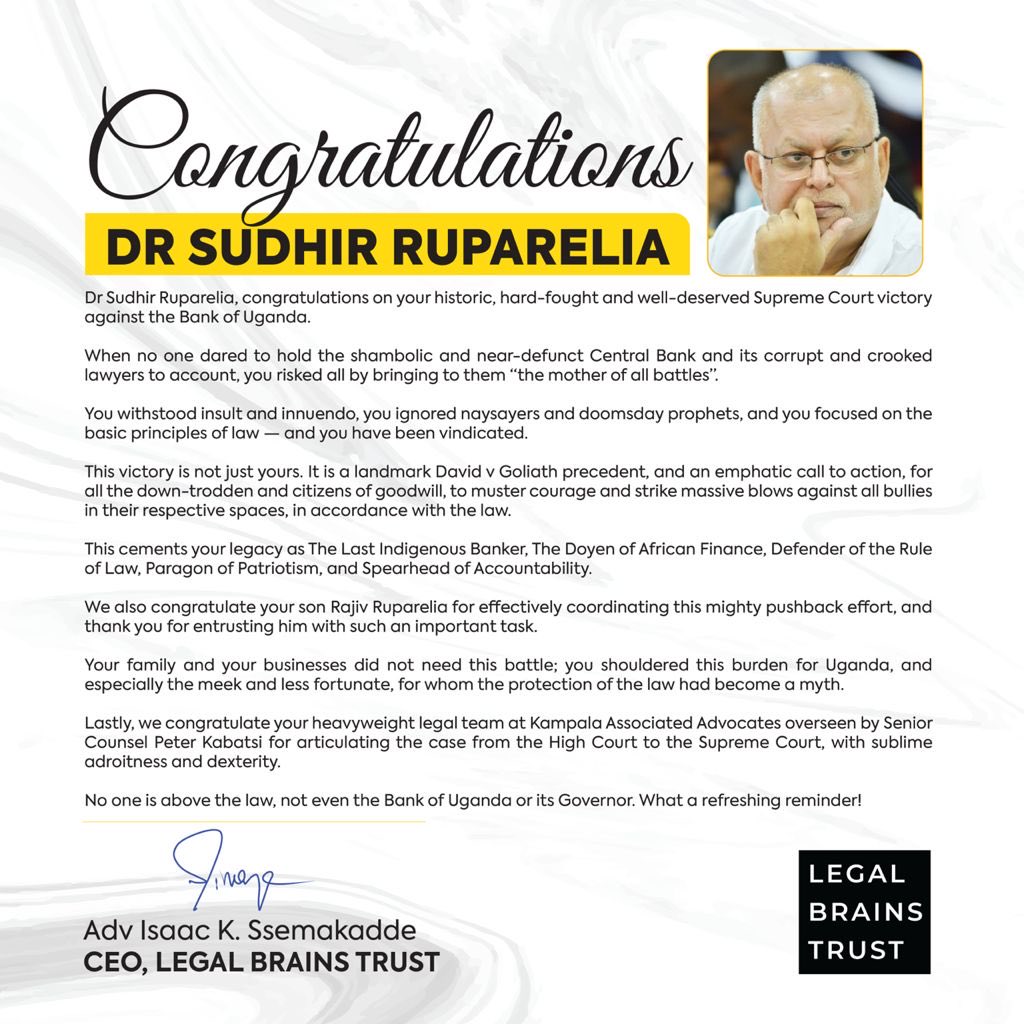 About the Legal Brains Trust
Legal Brains Trust (LBT), registered in 2008 as a company limited by guarantee is an independent nonprofit organisation that seeks to establish the rule of law, ensure equal and equitable access to justice and tackle the root causes of exclusion, vulnerability, and poverty in Africa.
In order to streamline its legal aid mandate, LBT established a specialist agency called the Centre for Legal Aid which later received the accreditation of the Uganda Law Council as a legal aid provider and has been a member of the Legal Aid Service Providers' Network (LASPNET) since then.
Do you have a story in your community or an opinion to share? Email us on: [email protected] Or Click Here join the Daily Express WhatsApp Group or join our Telegram Channel here to stay up-to-date.