KAMPALA, UGANDA: Victoria University Kampala (VU), has announced an extension for the commencement of its 2021/2022 academic year from September 20th to Monday, October 4th, 2021 as the institution aims to registered more students for its now popular online learning platform.
According to a memo dated 18th September 2021, the University Academic Registrar noted that the University is set to kick off its new semester on Monday, October 4th, 2021 with two weeks of virtual orientation training for the freshmen.
"In reference to our earlier communication dated 4th September 2021, about the commencement of the Academic Year 2021/2022, you are informed that the University shall resume online learning on Monday, October 4th, 2021 with two weeks of Virtual Orientation training. During orientation, students will get an opportunity to be introduced to Victoria University the various faculties and the Online Learning Management System (VCIass learning portal)," the Registrar said.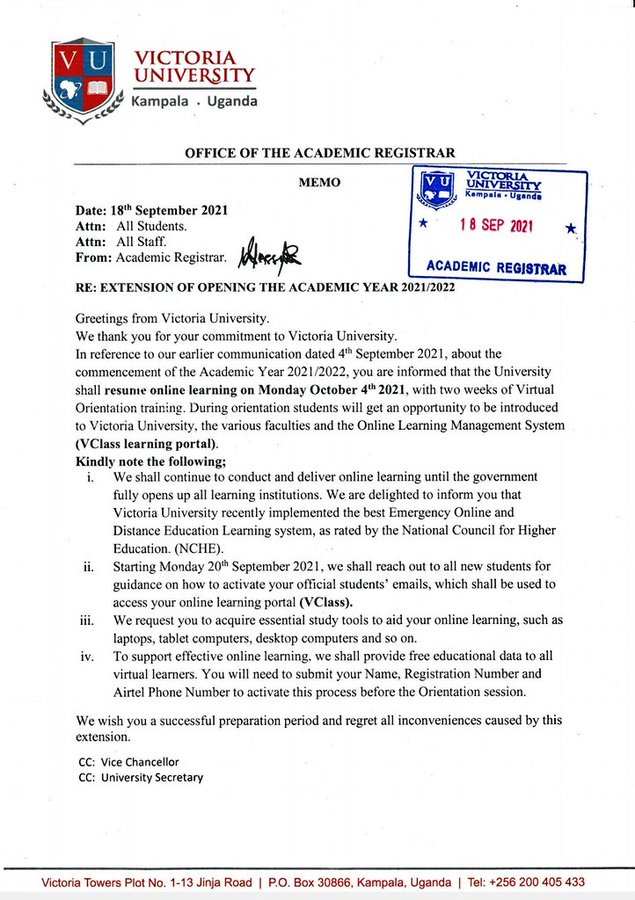 The university however noted that during this time starting from 20 September, they will reach out to all students to guide them on how to activate their official students' emails that will be used to access the online learning portal VClass.
The academic registrar further said the university will continue to provide free educational data to all virtual learners to ensure uninterrupted and continuous education when the new semester opens.
The postponement of the semester opening date comes just a week after the national council for higher education (NCHE) endorsed Victoria university's online learning systems which ranked them the best in Uganda since the covid-19 pandemic broke out.
Here is why you should join Victoria University today?
In times like these, it is important to join a university that guarantees uninterrupted learning as the COVID-19 pandemic continues to ravage the education sector to help you in the journey of achieving your dream career. And this is why Victoria University remains the only higher institution in Uganda that has continued operations despite the Covid-19 lockdowns that have left the education sector in shambles.
The University has further devised several means of ensuring continuity in learning after rolling out the VClass, a state-of-the-art learning management system that caters to students not only in Uganda but across the globe. The VClass adopted by VU includes the following;
1. Online classes
2. Online examinations
3. Online tuition payments
The University is also a cosmopolitan university, accredited by the National Council for Higher Education with a wide range of nationalities.
VU also offers a number of Academic Programmes at postgraduate, undergraduate, diploma, foundation certificates, and professional development courses, all virtually accessible through the Vclass digital learning environment.
To apply for the ongoing intake, visit Victoria University's newly revamped website at www.vu.ac.ug or visit the admissions office at Victoria Towers, 1-13 Jinja Road in the center of Kampala City. You can also contact them on Email: [email protected] or Tel: +256 759 996 130 or +256 700 300 088 or +256 707 780 158
Do you have a story in your community or an opinion to share? Email us on: [email protected] Or Click Here join the Daily Express WhatsApp Group or join our Telegram Channel here to stay up-to-date.