KAMPALA, UGANDA: The Uganda People's Defense Forces -UPDF and Congolese Forces have captured 34 Allied for Democratic Forces (ADF) rebels in joint military operations against the IS-liked terrorist movement in DRC.
According to a joint press release tweeted by the UPDF spokesperson Brig Gen Flavia Byekwaso, the UPDF has been at Mukakati Forward Operating Base for a week, carrying out other military activities that enhance combat readiness against ADF terrorists.
"The two forces bring to the attention of the opinion that the preliminary results of the airstrikes and artillery of November 30, 2021 show 32 Congolese hostages released, 34 ADF terrorists captured and four enemy camps destroyed," reads part of the statement.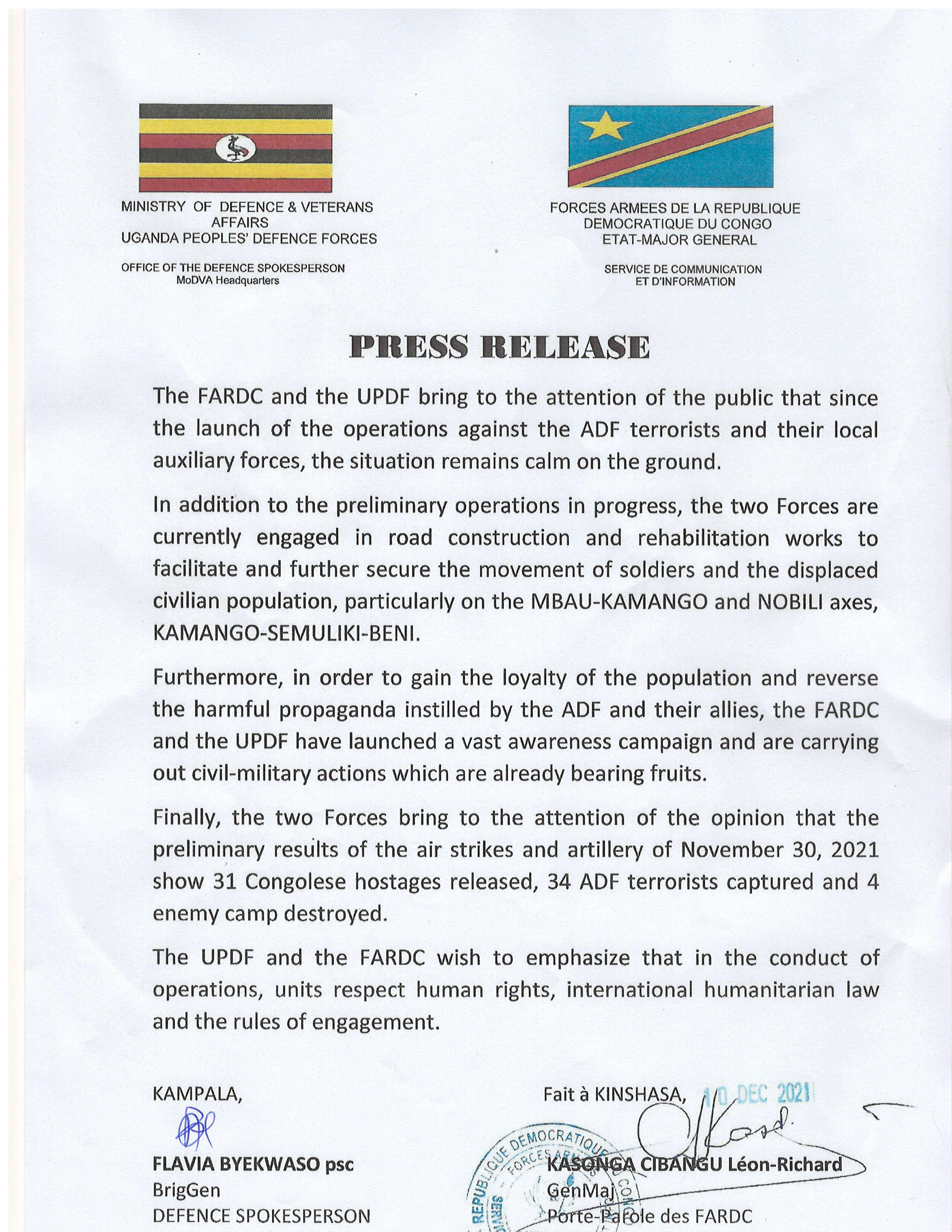 The joint statement further said both armies are "currently engaged in road construction and rehabilitation works to facilitate and further secure the movement of soldiers and the displaced civilian population, particularly on the Mbau-Kamango and Nobili axes, Kamango-Semliki-Beni.
The area was previously known as the 'death triangle' due to the presence of deadly ADF militants which regularly killed innocent civilians.
The opening of the security roads started early this week overseen by the UPDF's Engineering Brigade manned by heavy security to thwart any possible attacks from the rebels.
The joint statement also indicated that "in order to gain the loyalty of the population and reverse the harmful propaganda instilled by the ADF" and their allies, the joint forces had embarked on a vast awareness campaign and are carrying out civil-military actions which they said are bearing fruit. This is seen as a move to consolidate civilian authority in liberated areas after decades of conflict.
On Saturday morning, several reports indicated that the UPDF crack units had crossed Semliki bridge, officially commencing the hunt for ADF militants hiding in North Kivu. The bridge is a strategic feature as it allows UPDF to cross River Semliki to enter deep into ADF territory.
The UPDF Forward Operating Base (FOB) in Mukakati is located about 9 kilometers from the Semliki bridge.
Do you have a story in your community or an opinion to share? Email us on: [email protected] Or Click Here join the Daily Express WhatsApp Group or join our Telegram Channel here to stay up-to-date.