KAMPALA, UGANDA: As a giveaway during the holy month of Ramadan, Victoria University Kampala (VU) has announced an offering of new exciting scholarships specifically for Muslims in a bid to attract more numbers for its September Intake 2022.
Ramadan, which kicked off earlier this month is in fulfillment of the third pillar of the Islamic faith. During this time, Muslims observe a period of fasting and refrain from eating and drinking from sunrise to sunset.
According to VU Management, those who qualify to join the University can submit their hard copies of academic documents; and an application letter for a chance to win these two scholarships on offer.
"Scholarship offer for Muslims. Don't miss out. If you qualify to join Victoria University and you are a Muslim, here is a great offer for you. Submit your hard copies of academic documents; and an application letter at Victoria University."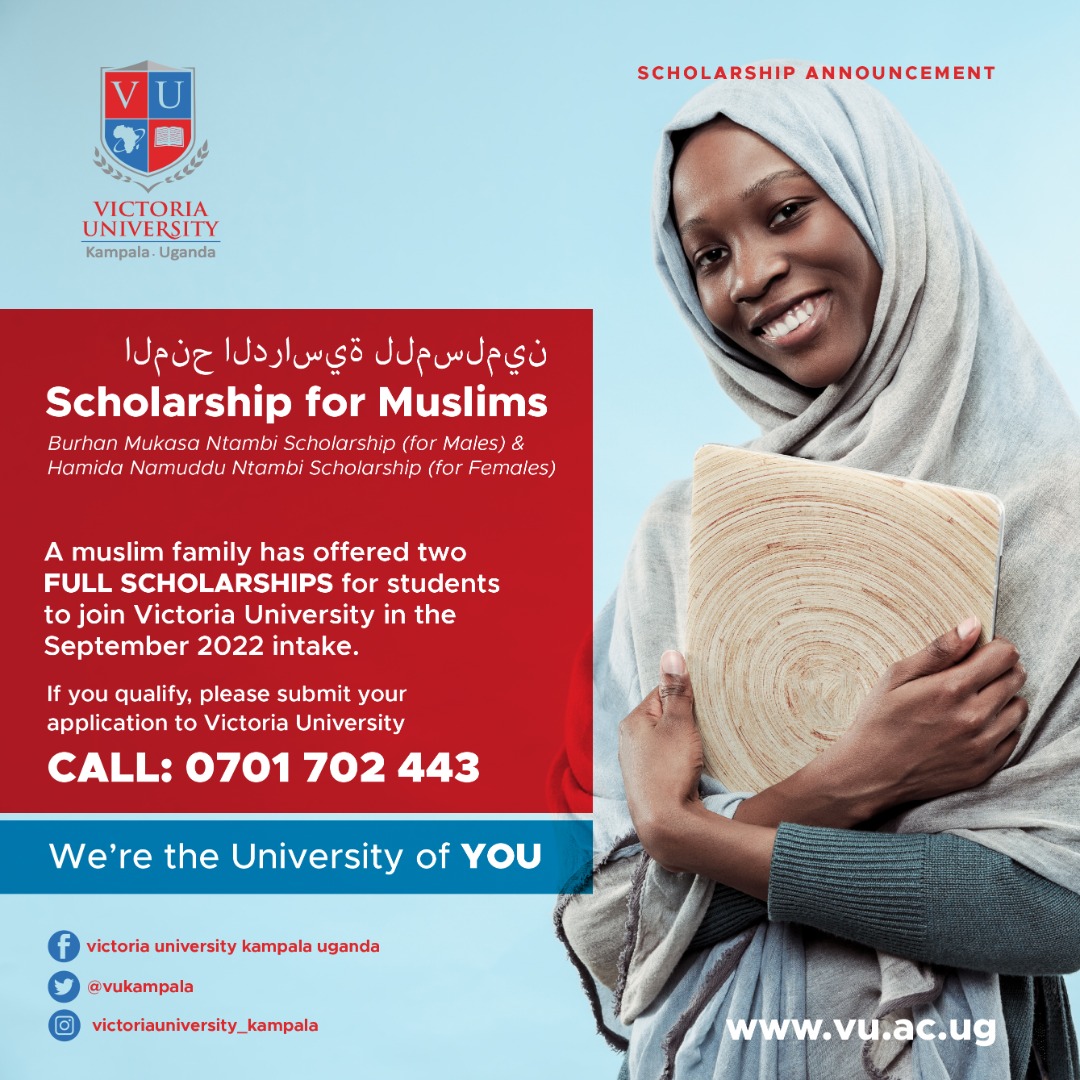 Why Study at Victoria University
Victoria University, now a charter institution with a modern facility in the heart of Kampala is fully accredited by the National Council for Higher Education to provide quality education which ranks it the leading private university in Uganda and a center for academic excellence globally.
Unlike other universities, during the internship period, students enjoy access to a dedicated work experience in companies under the flagship of Ruparelia Group of Companies, which also owns the fast-growing private university.
The University nurtures critical thinkers and has the capacity, the facilities, and determination to revitalize higher education in Uganda and all over the continent, and is committed to playing a leading role in bringing and developing high quality, student-centered learning opportunities based on standards of excellence that are unique, innovative and difficult to match.
Victoria University owned by business mogul Dr. Sudhir Ruparelia is part of the Ruparelia Group of Companies, which has a strong presence in the education sector in Uganda and has under its portfolio, Kampala Parents School and Delhi Public School International.
To apply for the september 2022 intake, visit Victoria University's admissions office at Victoria Towers, 1-13 Jinja Road in the center of Kampala City. Email: admissions@vu.ac.ug or Tel: +256 701 702 443 or +256 700 300 088 or +256 707 780 158
Do you have a story in your community or an opinion to share? Email us on: dailyexpressug@gmail.com Or Click Here join the Daily Express WhatsApp Group or join our Telegram Channel here to stay up-to-date.