Businessman Dr. Sudhir Ruparelia, the chairman of the Ruparelia Group is set to tip the Ugandan law community on the various investment opportunities in Africa and the lawful approach to the same.
This has been confirmed by Mr. Ronald Mukoma the President of Lawyers' Desk who are organizing the lecture under the theme; "Exploring Various Investment Opportunities Africa Has To Offer.".
According to a brief notice to this website by Mr. Mukoma, Dr. Sudhir, who is also the Nepalese consul to Uganda will be the guest speaker at the online event slated for Saturday, July, 09, 2022, happening from 7:30 pm to 9:00 pm, live on all their social media platforms.
"This is to bring to your attention that on Saturday, 9,  July 2022, the lawyers' desk fraternity shall host Dr. Sudhir Rupareria, founder/ Chairman, Ruparelia Group of companies as a guest speaker on the topic, "Law and Investment," Mukoma told this website, adding that "the meeting is focused on broadening the lawyer's/ advocates' knowledge on the business/ investment world."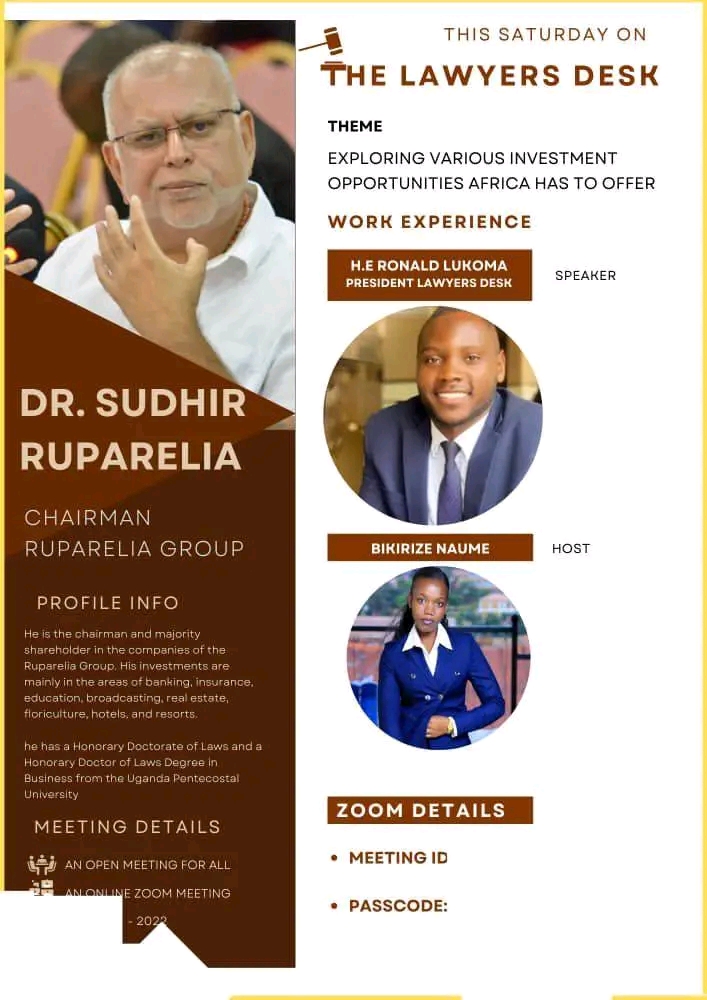 Who is Sudhir?
Dr Sudhir Ruparelia is the founder and Chairman of the Ruparelia Group, one of Uganda's largest business conglomerates with investments in financial services, real estate, education services, hospitality, agriculture, and media/broadcasting.
He is also the Honorary Consul, of the Federal Democratic Republic of Nepal to Uganda.
A true definition of a self-made billionaire entrepreneur Sudhir was born in Uganda in 1956. In 1972 having relocated to the United Kingdom with his family he completed his O and A levels before working at various companies as an accountant.
He returned to Uganda in 1985 having amassed savings of only UGX65 million, he and his wife have built the Ruparelia Group into an over $1.1 billion conglomerate.
Through the Ruparelia Foundation Group a foundation established in 2012, they are regular and substantial supporters of various corporate social activities in sports, healthcare, arts and culture, heritage and religion, environmental and wildlife conservation, agricultural research, education and talent development.
He is also the Chairman of Meera Investments Limited the property development arm of the Ruparelia group. Its goal is to feed the unmet need for affordable yet modern residential and working space for a fast-growing Ugandan economy that was emerging from years of war and underinvestment in the real estate sector.
Meera Investments is now the largest developer of commercial and residential space, with over 300 properties in Kampala and other major towns like Mukono, Jinja, Mbale and Mbarara. Meera also has the largest number of ongoing real state projects and is the largest private owner of commercial land in Kampala.
Do you have a story or an opinion to share? Email us on: dailyexpressug@gmail.com Or join the Daily Express WhatsApp Group or Telegram Channel for the latest updates.