East African Richest man Dr. Sudhir Ruparelia and his family have joined millions of Ugandans to wish the Muslim fraternity with joyous Eid al-Adha celebrations ahead of its celebrations tomorrow, Saturday, July 9, 2022.
Sudhir through his social handles wished all Muslims on behalf of his billionaire family a blessed Eid-Al-Adha, further mentioning his lovely wife Jyotsna Ruparelia, and their beloved children.
"Wishing all of you a blessed Eid al-Adha From – Dr. Sudhir & Jyotsna Ruparelia, Rajiv, Naiya & Inara Ruparelia, Meera & Ravi Kotecha, Sheena, Jay & Arie Sakaria," the tycoon posted on Facebook.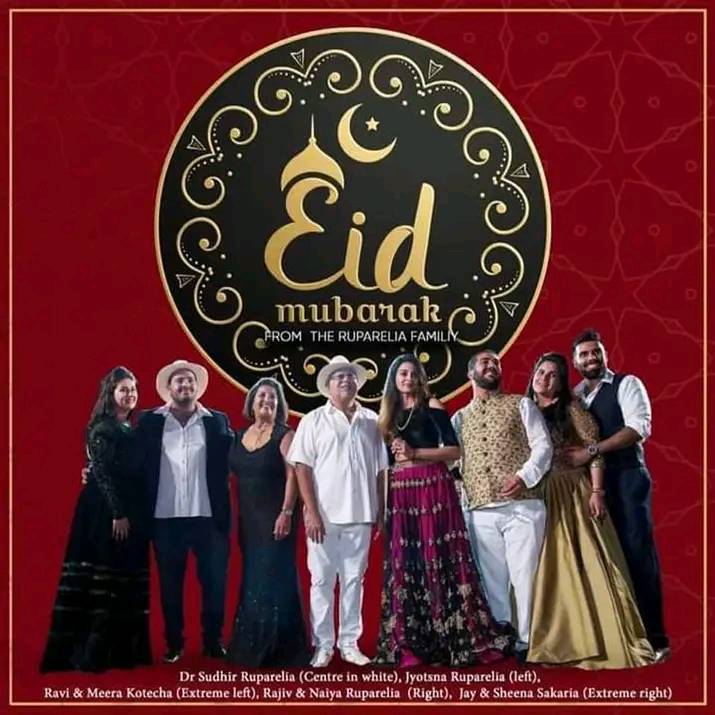 About Eid Al-Adha
Eid al-Adha is the second and bigger of the two main holidays celebrated in Islam. It honors the willingness of Ibrahim to sacrifice his son Ismail as an act of obedience to Allah's command.
On this day, families sacrifice a ritually acceptable animal (sheep, goat, camel, or cow) and then divide the flesh equally among themselves, the poor, and friends and neighbors. Eid al-Adha is also a time for visiting with friends and family and for exchanging gifts.
Before Ibrahim could sacrifice his son, however, Allah provided him with a lamb that he was supposed to kill in his son's place because of his willingness to sacrifice his own son in the name of God. In commemoration of this intervention, animals are ritually slaughtered. Part of their meat is consumed by the family which offers the animal, while the rest of the meat is distributed to the poor and the needy. Sweets and gifts are given, and extended family members are typically visited and welcomed. The day is also sometimes called the Greater Eid.
In the Islamic lunar calendar, Eid al-Adha falls on the 10th day of Dhu al-Hijjah and lasts for four days. In the international (Gregorian) calendar, the dates vary from year to year, shifting approximately 11 days earlier each year.
Do you have a story or an opinion to share? Email us on: dailyexpressug@gmail.com Or join the Daily Express WhatsApp Group or Telegram Channel for the latest updates.