KAMPALA, UGANDA: Victoria University Kampala, Uganda's leading transformational university has announced that the deadline for the Post COVID-19 Bursaries which was extended from July 1 to July 20, 2022, will end this week on Wednesday.
The registration for the above-mentioned bursaries was extended due to the overwhelming requests from parents who were still preparing their children to join the mighty Victoria University and as earlier announced in our previous editions, there will be no more extensions.
"The deadline for this Bursary has been extended from July 1 to July 20, due to the overwhelming requests. WARNING: There will be no more extensions," Victoria University said in a tweet earlier this month.
Dubbed post-covid-19 district bursaries, last-minute applicants can now get the opportunity to study at Uganda's leading private university by simply the following steps;
Submit your academic papers
Pay UGX210,000 application fee to Victoria University a/c.
Get a recommendation letter from your former school and District LCV
Submit letters to Victoria University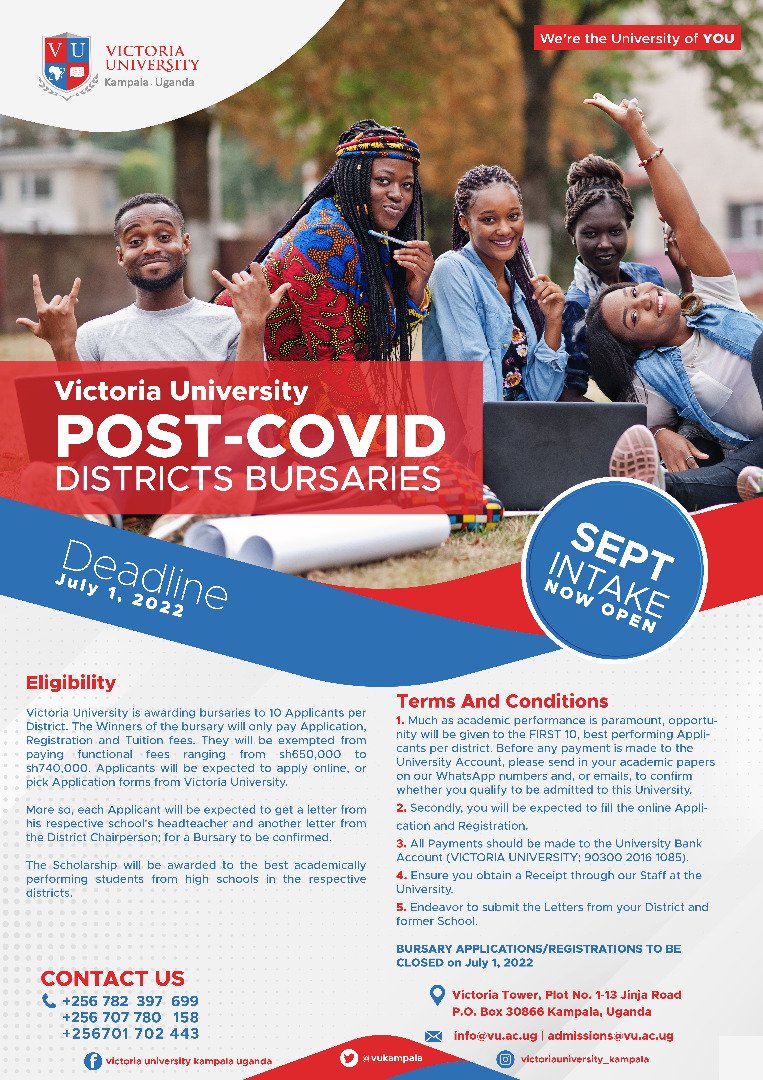 Victoria University owned by Ugandan Billionaire Dr. Sudhir Ruparelia is part of the Ruparelia Group of Companies, which has a strong presence in the education sector in Uganda and has under its portfolio, Kampala Parents School and Delhi Public School International.
Founded in 2013, Victoria University is currently the fastest-growing university in East Africa. It is located in the heart of Kampala city and on the main public transportation routes at Victoria Towers, Plot 1-13, Jinja Road.
Victoria University is a cosmopolitan university with students from more than 50 countries across the world. It is accredited by the National Council for Higher Education (NCHE) to offer degree programs in the Faculties of Business Management, Health Science, Humanities and Social Sciences, Science and Technology, the Institute of Education and the School of Law.
Having been ranked by the NCHE as the best in delivery of Emergency Open Distance e-Learning (ODeL) with an impressive score of 86.1%, Victoria University has cemented its place as Uganda's leading technologically–enabled university.
"We are happy to be the first University approved to host an EON Reality Center in Uganda, paving the path to introduce Virtual Reality (VR) and Augmented Reality (AR) technology in education," says Victoria University, Uganda's only institution that offers a curriculum that focuses on both today and future's workforce needs.
Do you have a story or an opinion to share? Email us on: dailyexpressug@gmail.com Or join the Daily Express WhatsApp Group or Telegram Channel for the latest updates.