Uganda's leading transformation university, Victoria University Kampala has revealed that the admissions for the August-September intake for Academic Year 2022 are nearing an end as it continues to call upon potential students enroll for their digital learning environment.
Through an announcement posted via its socials, Victoria University urged potential students especially S.6 vacists to enroll for its work-integrated experiential learning which guarantees you work experience needed to flourish in the technologically changing world.
"Admission into Victoria University for the September 2022 intake, will close in a few weeks from now. Don't be left out. Apply Now. http://vu.ac.ug admissions@vu.ac.ug head-marketing@vu.ac.ug 0782397699," the University said.
The University added that since most of the students are still battling financial consequences brought by COVID-19 and other financial constraints, it has a 60% tuition reduction scholarship for first applicants.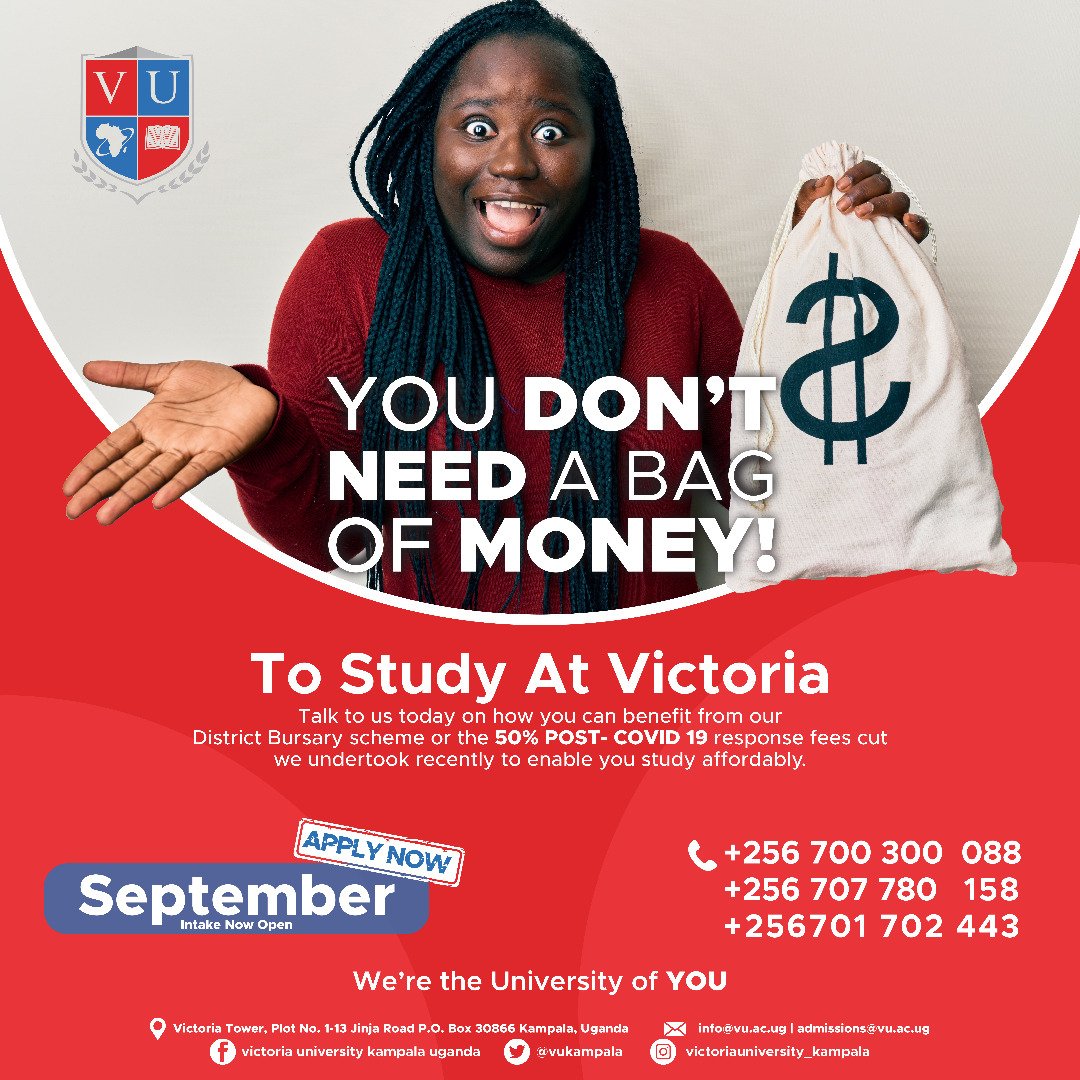 Victoria University which is now said to be the leading university in Uganda stands out as a pivot of academic excellence, offering a fresh and intellectually thriving environment that nurtures critical and progressive thinkers and pushes pedagogical boundaries.
Victoria University was opened in August 2013 and has the capacity, facilities, and determination to revitalize higher education in Uganda and in the region. The University is committed to playing a leading role in bringing and developing high-quality education, student-centered learning opportunities based on standards of excellence that are unique, innovative, and difficult to match.
The University is centrally located in the heart of Kampala City and on the main public transportation routes coupled with ample parking space. The University is also a cosmopolitan university, accredited by the National Council for Higher Education with a wide range of nationalities.
VU is part of the Ruparelia Group of Companies, which has a strong presence in the education sector in Uganda and has under its portfolio, Kampala Parents School and Delhi Public School International.
Do you have a story or an opinion to share? Email us on: dailyexpressug@gmail.com Or join the Daily Express WhatsApp Group or Telegram Channel for the latest updates.