KAMPALA, UGANDA: Victoria University Kampala has finally attained a full charter status after President Museveni's approval putting a final stamp to the University as a recognized awarding institution for Bachelors, Masters, Doctorates and Honorary Degrees.
The news of this mega achievement was shared by the VU Vice Chancellor Prof Lawrence Muganga in a Tuesday tweet in which he share a letter from the National Council for Higher Education (NCHE) handing over the charter to the university.
"Finally Victoria University CHARTER is here. If you have loved to pursue meaningful education, feel free to come to @VUKampala," Muganga said ina brief tweet.
According to the letter signed by NCHE Executive Director Prof. Mary J.N.Okwakol dated 16th August 2022, President Museveni signed the Charter for Victoria University on 31st July 2022.
"H.E the President of the Republic of Uganda signed the Charter for Victoria University on 31st July 2022. On behalf of the National Council for Higher Education and on my own behalf, I congratulate Victoria University on this achievement.
"The purpose of this letter is to invite you and your team to an official handover of the Charter at a ceremony scheduled to take place on Friday 19th August 2022 at the NCHE Secretariat at 11:00 am," the letter adds.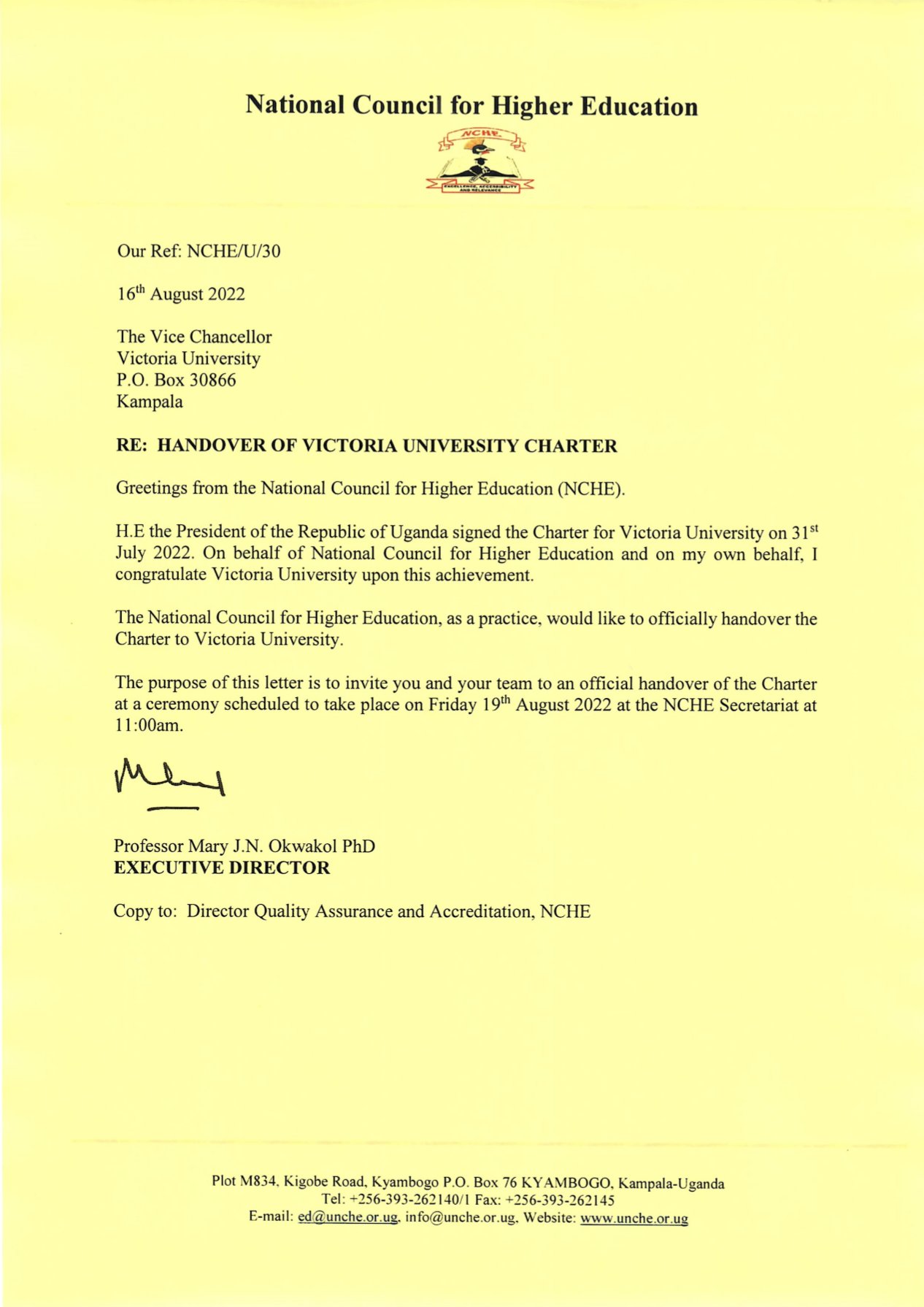 In December last year, NCHE granted Victoria University a Charter earlier but could not take effect before gazettement and final approval by the President.
Victoria University has continued to revolutionize Uganda's education sector amidst all hardships brought by COVID-19 that saw thousands of Universities globally shutting down.
Uniqueness At Victoria University
Founded in 2013, the University is currently the fastest-growing university in East Africa. It is located in the heart of Kampala city and on the main public transportation routes at Victoria Towers, Plot 1-13, Jinja Road.
Victoria University is part of the Ruparelia Group of Companies whose footprint in the education sector runs right from the foundational primary level to the highest level of education in Uganda.
University's sister schools include Kampala International School of Uganda, Kampala Parents School and Delhi Public School International.
Victoria University is a cosmopolitan university with students from more than 50 countries across the world. It is accredited by the National Council for Higher Education (NCHE) to offer degree programs in the Faculties of Business Management, Health Science, Humanities and Social Sciences, Science and Technology, the Institute of Education and the School of Law.
"We are happy to be the first University approved to host an EON Reality Center in Uganda, paving the path to introduce Virtual Reality (VR) and Augmented Reality (AR) technology in education," says Victoria University, Uganda's only institution that offers a curriculum that focuses on both today and future's workforce needs.
Do you have a story or an opinion to share? Email us on: dailyexpressug@gmail.com Or join the Daily Express WhatsApp Group or Telegram Channel for the latest updates.