KIKUUBE, UGANDA: The Minister of State for Gender and Culture Hon Peace Mutuuzo has challenged parents to embrace girl child education to accelerate equality initiatives to close gender gaps and promote women and girls' empowerment to drive transformative change.
The minister made the remarks during the Kikuube District Women's Day Celebrations held on Friday, May 05 at Buhimba SS playground in Buhimba town council, Kikuube town council where she presided as the guest of honor.
The theme of the celebration was "Digital all innovation and technology for gender equality."
Ms Mutuuzo speaking to congregants said many antisocial behaviours are mushrooming in Uganda due to parent's failure to fulfil their obligations despite government's effort to ensure girl child education.
"The NRM government under President Yoweri Kaguta Museveni introduced Universal Education both at Primary and Secondary School level however it's a disappointment to us that some parents have continuously failed to educate a girl child". Minister Mutuuzo said.
The minister further challenged Kikuube District leaders to fight against slot machine dealers in the district accusing the dealers for promoting theft among children adding that as cabinet, they approved the abolishment of slot machines in the country.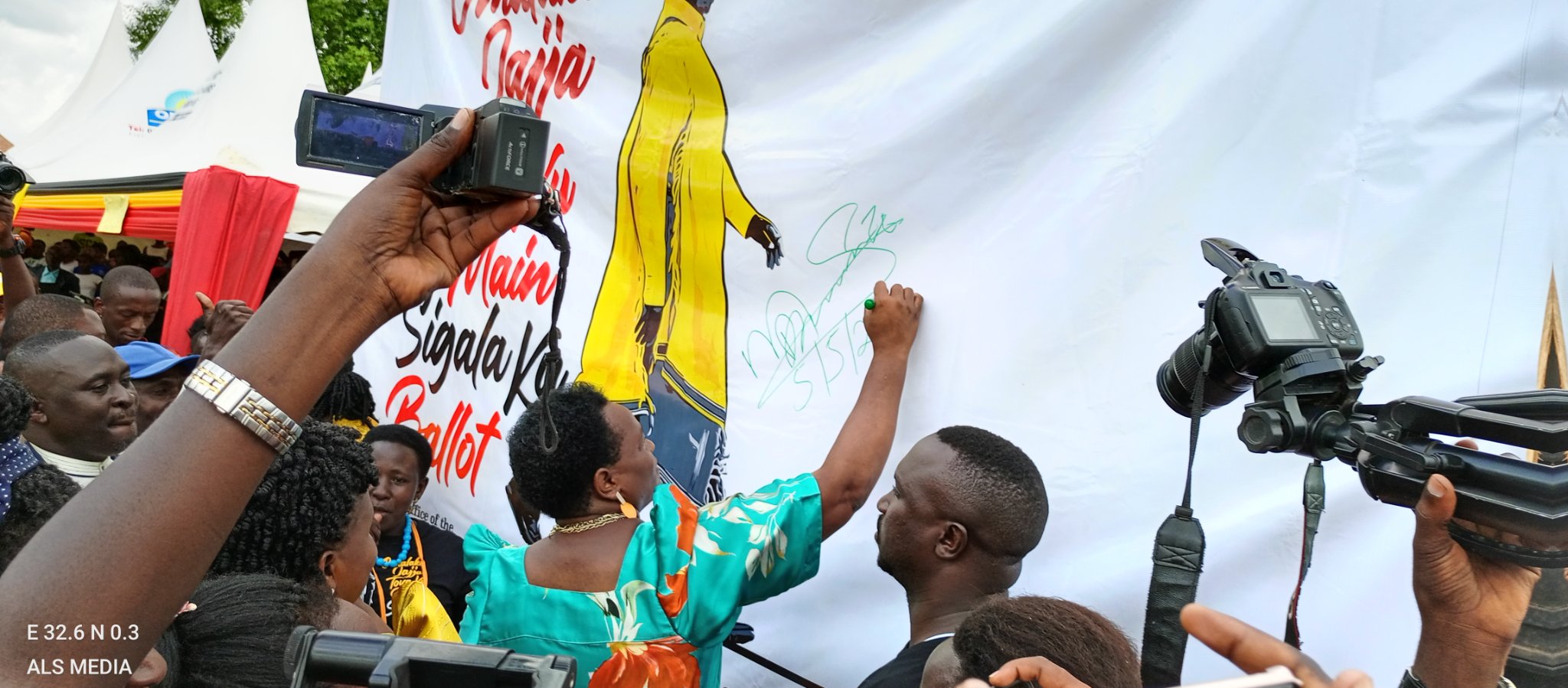 Mutuuzo also confirmed to Kikuube residents that the anti-homosexuality bill which was recently retabled in Parliament will soon be signed by President Museveni an assured Ugandans not to worry about the influence of the Western culture in such unnatural sexual acts.
"Those who do not want to produce children, let them go to the white countries where they legalize such acts, but here in Uganda, we shall not allow homosexuality so we are calling upon our religious leaders, school administrators, political and opinion leaders to educate our young generation against the habit since they are the most targeted group". Minister Mutuuza said.
She also thanked president Museveni and the NRM government for introducing women representation which he has enabled many of them to start up their own investments.
Meanwhile, Mr Amulan Tumusiime the Kikuube Resident District Commissioner has appealed to government through the minister to avail means to return the 2000 Bukinda Land evictees to their ancestral Land as per the presidential directive where they were chased by representatives from the office of the prime minister claiming the land to be belonging to Kyangwali Refugee resettlement camp and currently staying at his office.
"To me, I feel unhappy with today's Celebrations because we are celebrating here but there's more than 1000 women at Kikuube IDP camp and these people are have no food, poor shelter and poor health services," Mr Tumusiime said
Mr. Tumusiime says like the iron sheets saga, thieves used the office of the prime minister to acquire land in Kikuube District through evicting innocent people from their ancestral Land claiming to be belonging to the office of the prime minister.
"The office of the prime minister does not own land, land is owned by people. Many crookers in the office of the Prime minister have gone ahead to grab people's Land for their personal gains through renting the grabbed land to maize farmers suffering like the case with the Karamoja iron sheets," he said.
The District Woman MP, Ms Florence asked the women in Kikuube to be more innovative so as to fit in the current competitive market. "Look for new ideas to create unique products so as to merge with the current competition on the Ugandan market", Hon. Natumanya said.
Susan Kabasindi, the Buhimba town council woman councilor to Kikuube District asked government to establish special schools for the disabled children and and also strengthen the Buhimba Secondary School Laboratory.
"We are pleading with government to build a school for children with disabilities in Kikuube District because as women we are finding a challenge to educate these children since there's no school for them in the district and also equipment in our school Laboratory with more computers if we're to push for the technological advancement". Hon. Kabasindi said.
Do you have a story or an opinion to share? Email us on: dailyexpressug@gmail.com Or join the Daily Express WhatsApp Group or Telegram Channel for the latest updates.