The Education MInister and First Lady Janet K Museveni has Friday released the Results from the 2020 Uganda Certificate of Education (UCE) Examinations at State House Nakasero, in Kampala.
This is the second set of exams released by the authorities, after the PLE Results released two weeks ago.
How to check your UCE Results on phone;
Here are a few simple steps you can follow to check for UCE Results for any candidate using your phone messaging service (SMS).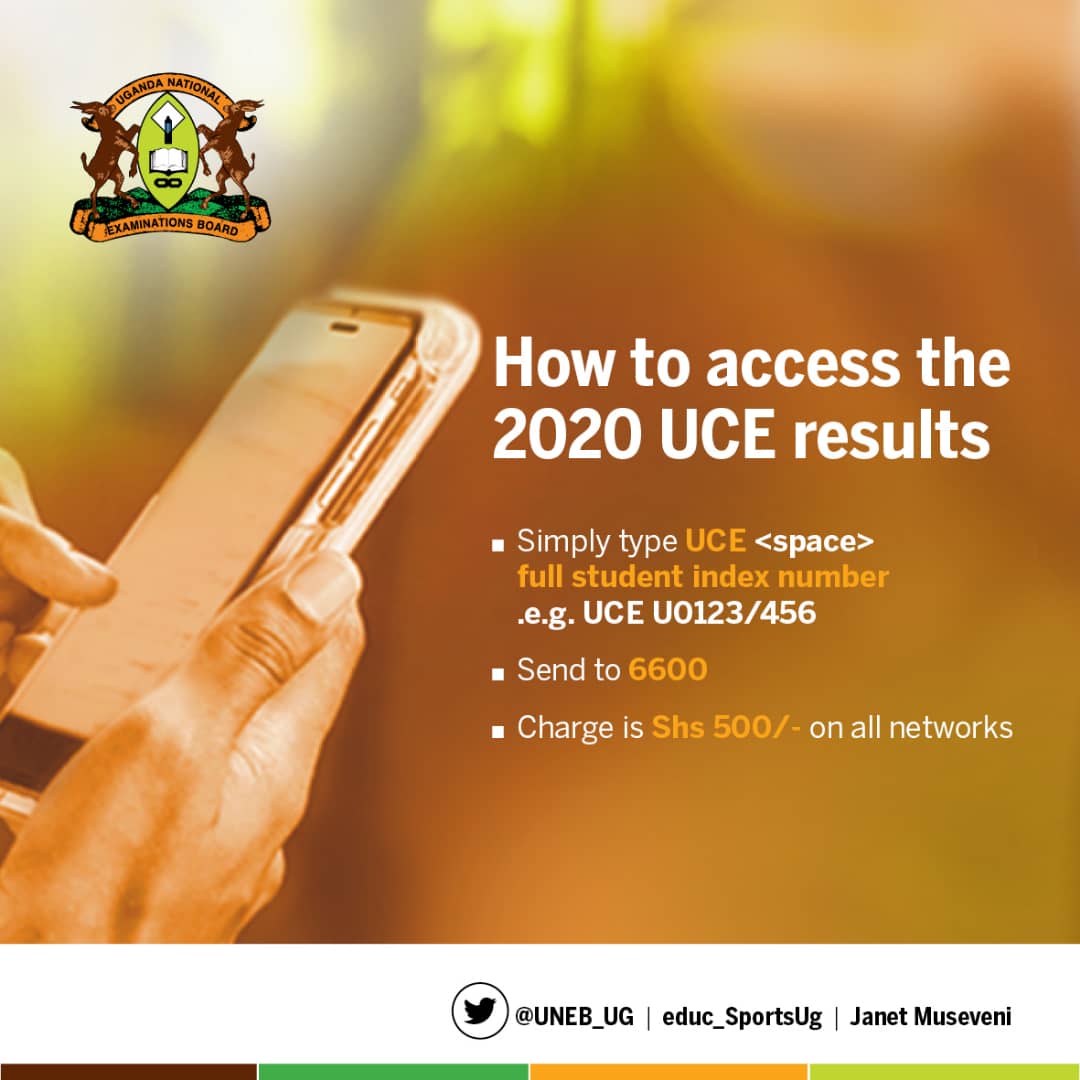 Step 1: Go to your phone messaging, type PLE <space> Full Index Number of candidate e.g: UCE U01234/456
Step 2: Send that to 6600, the message will cost only 500shs of airtime.
Step 3: Repeat step 1 and 2 to check for other candidates results
The 2020 UCE Results released indicated a decrease in candidature by 4,324 (-1.3%) from 337,720 in 2019 to 333,396.
Of these, 148,128 (44.4%) were Universal Secondary Education (USE) beneficiaries. The number of females candidates registered is 166,744 (50.01%) and that of males is 166,652 (49.99%).
"Female candidates performed better than males in the English Language. In other large entry subjects, male candidates show better performance, with the differences more marked in Mathematics and the Sciences," Dan Odongo the Executive Secretary of UNEB said while giving his remarks.
You can also access the UCE Results through the UNEB e-portal
1. To do this, go to your web browser, and type ereg.uneb.ac.ug/eresults
2. In the form that will load, enter the candidate's Index Number (E.g: UCE U00002/003) and click SEARCH button.
3. A page with the Candidate's UCE Results will load on the screen, you can print it out or export as PDF (compatible on Tablets and PCs only).
Do you have a story in your community or an opinion to share? Email us on: [email protected] Or Click Here join the Daily Express WhatsApp Group or join our Telegram Channel here to stay up-to-date.