Speke Resort Munyonyo together with the Munyonyo Commonwealth Resort by far remain your favorite hotspot for conferences, meetings, and wedding venues in Uganda, and this is why the swanky hotel has unveiled a wedding bonanza dubbed "Wedding Stylish Small" at very reduces rates.
According to Speke Resort management, this is an offer to enable prospective couples afford the hotel venue and services for their forthcoming wedding receptions.
The reduced rates will see couples enjoy a full night stay of their wedding at the hotel for only Shs450,000 in a single room and Shs 350,000 in a classic double room.
The rates, the hotel says come with an extra complimentary spa treatment for their wedding guests for the full night, and you surely wouldn't want to miss out on this. This surely makes the Speke Resort & Conference Centre your ideal location for a wedding or banquet, either outside (in one of our marquees) or in one of the banqueting halls.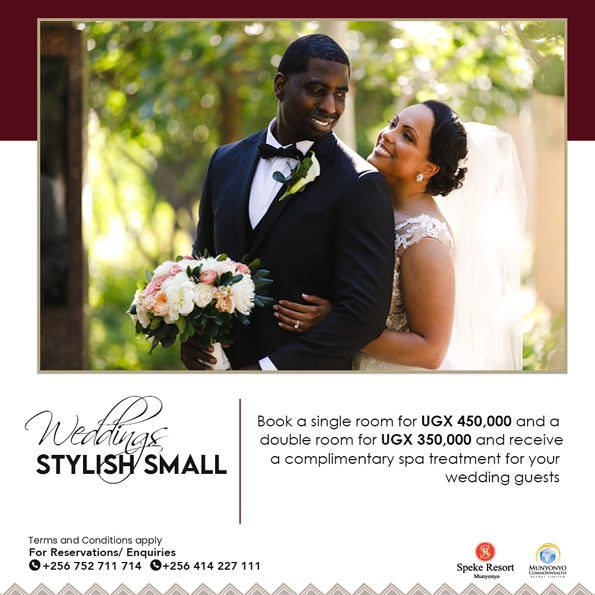 Why Choose Speke Munyonyo for your wedding?
The secret ingredient to why happy brides and grooms rank Munyonyo Commonwealth Resort as the perfect wedding venue in Uganda is the resort's ability to effortlessly organize enchanting weddings with truly romantic experiences.
Whether your wedding celebration is an intimate affair created just for two, or a grand extravaganza guaranteed to grace the society pages, Munyonyo Commonwealth Resort's exceptional 90-acre integrated resort promises to exceed your expectations.
"From sunset champagne toasts on the shores of Lake Victoria, our certified wedding planners and personal butlers are on hand 24/7 to ensure that you enjoy the most important event of your life," a proud Resort's staff whispered to our reporter, he added; "From intimate family celebrations to grand ballroom galas, our lakefront, ballroom, and marquee wedding venues set a captivating stage for weddings at the resort.
The management at Munyonyo Commonwealth Resort organizes bespoke weddings and if you decide to get married at the resort, its onsite wedding planners can take care of all the arrangements including, accommodation, flowers, food, music, venues, video, photographers, guest entertainment, and much more.
There is more to Munyonyo Commonwealth Resort than a venue for weddings. At the resort, its dedicated banquet team also caters for wedding anniversaries, birthday parties, stag and hen parties, and pretty much more. Nothing is too much for them to handle.
"Our client services team will only be happy to assist you in picking a venue that best meets your requirements and ensuring your event is a memorable one," one of the staff at the hotel tipped on this website.
Do you have a story or an opinion to share? Email us on: dailyexpressug@gmail.com Or join the Daily Express WhatsApp channel for all the latest news and trends or join the Telegram Channel for the latest updates.