Speke Resort & Munyonyo Commonwealth Resort popularly known for its luxurious spa mania and body fitness center has announced a mega seasonal offer that will see Kampalans have an exhilarating massage experience at its calabash spa starting this month of August.
In the new offer, Speke Resort highlighted that for every 60 minutes booking, a client will enjoy an extra 30 minutes of free massage to unleash off your stress, fatigue, and joint pains. This offer, the management says is available every Monday and Tuesday only, all through to the end of August.
"Immerse yourself in an oasis of serenity and relaxation at our calabash spa. Book a 1hour massage every Monday and Tuesday and enjoy 30minutes free," part of Speke Resort's post reads on Facebook.
Speke Resort's Calabash Spa offers tailor-made holistic experiences for each guest, and with the gentle pace of life within the resort, you will relax and focus on the extensive spa/wellness treatments anything from a simple Swedish massage to an Indian head massage.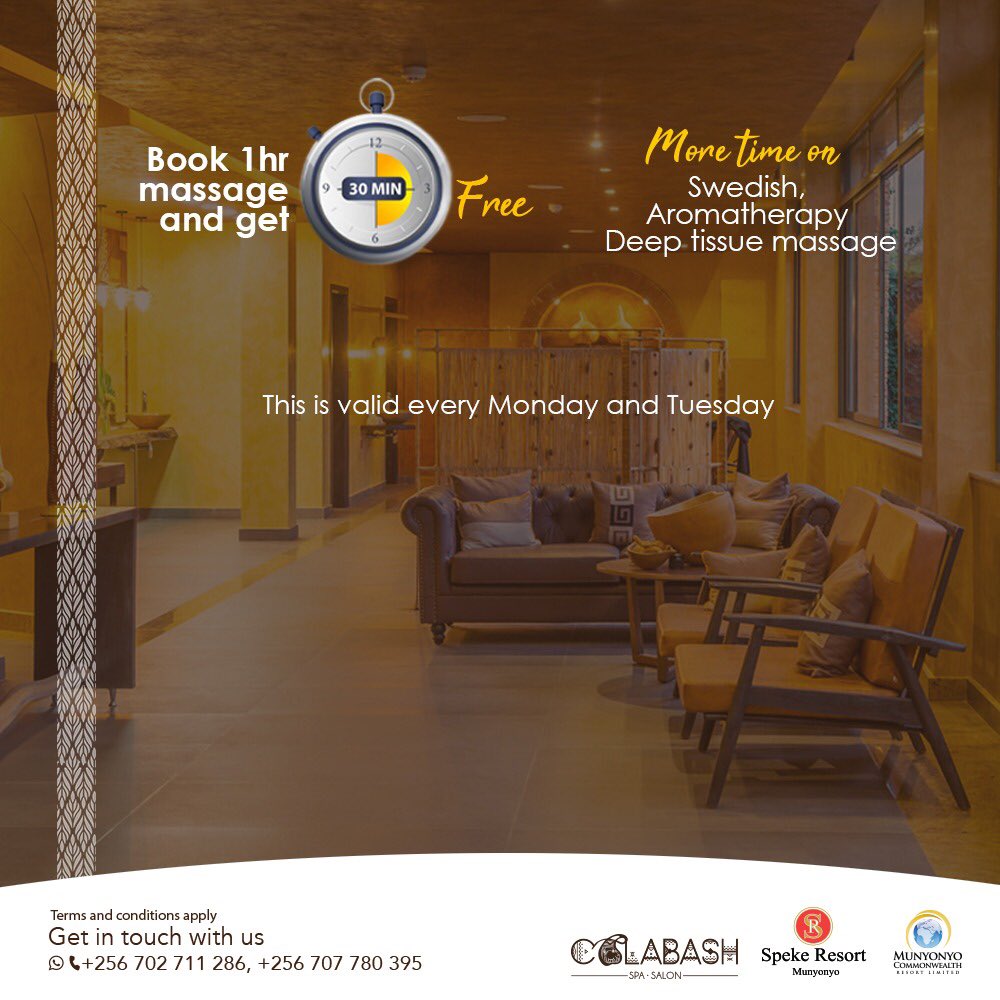 The resort offers the above using organic produce where possible their professional fitness team can carefully assess your health, fitness, and lifestyle to provide personalized programs and treatments.
WHAT TO EXPECT
Swedish massage
The Swedish massage is a great treat for beginners and those looking for a relaxing medium to firm massage. This Easter season, to get a Swedish massage, singles will pay for Shs95, 000 for 60 minutes, Shs120, 000 for 90 minutes and Shs150, 000 for 120 minutes while couples will pay Shs180, 000 for 60 minutes, Shs225, 000 for 90 minutes and Shs289, 000 for 120 minutes.
Aromatherapy
This luxurious essential oil treatment is a good mood lifter that promotes healing. Singles will pay for Shs120, 000 for 60 minutes, Shs140, 000 for 90 minutes and Shs160 for 120 minutes while couples will fork out Shs230, 000 for 60 minutes, Shs265, 000 for 90 minutes and Shs300, 000 for 120 minutes.
Deep tissue
This truly traditional massage focuses on the deepest layer of the muscle. Singles will pay Shs140, 000, Shs170, 000 for 90 minutes and Shs190, 000 for 120 minutes while couples will pay Shs265 for 60 minutes, Shs320, 000 for 90 minutes and Shs355, 000 for 120 minutes.
Munyonyo Common Wealth Resort is a subsdiary company od the Ruparelia Group of Companies.
The multi-award-winning hotel came into the limelight in 2007 when it was chosen to host the first-ever Commonwealth Heads of Government Meeting, hence its name.
There is more to Speke Resort Munyonyo and Munyonyo Commonwealth Resort than just a venue for meetings. It's a resort that accomplishes all – meetings, conferences, leisure, weddings, excursions and so much more.
Do you have a story in your community or an opinion to share with us: You can send us a hint on: [email protected] Or Click Here join the Daily Express WhatsApp Group to stay upto-date.