HOME & LIVING: Speke Resort and Munyonyo Commonwealth Resort have announced a new mega bonanza dubbed 'Relax & Rejuvenate' offering it at very reduces rates in a bid to give a comfortable moment of stay to their loyal clients at the swanky hotels.
The Speke Group of Hotels that manages the Munyonyo Commonwealth Resorts are a subsidiary of Ruparelia Group of Companies, a conglomerate owned by Uganda's richest man and business mogul Dr. Sudhir Ruparelia.
According to the hotel, the chill and grill garden villa package that is coupled with a bunch of massive goodies has been slashed to UGX 375,250 per night for a single room and UGX 498,000 per night for a classic double room.
The fare rates above, according to the hotel will see its most esteemed clients enjoy unending goodies that include among as; a heavy breakfast, a sumptuous lunch buffet (or barbeque dinner) plus exclusive access to the warm-watered swimming pool, health club, steam, and sauna among other privileges.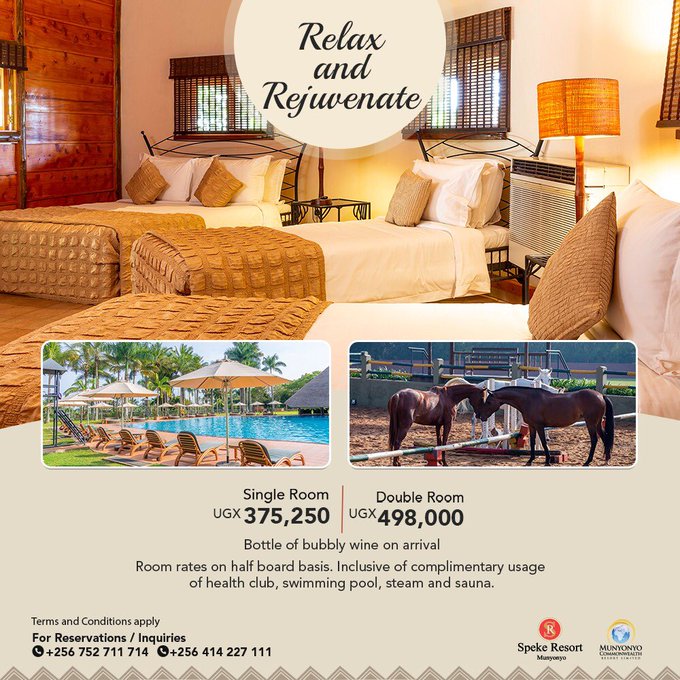 "Rediscover the rewards of the perfect break. Enjoy discounted rates on accommodation, spa treatments to revive your body and soul, a bottle of bubbly brunch on arrival and so much more as you rejuvenate and recover from all the stress," management told this website.
"Get ready for the time of your life as you relax in the privacy of your room. Enjoy lots of exclusive guest privileges and deals that will make your stay memorable," the hotel management added
At all Speke hotels, a warm, welcoming, affair awaits clients where outstanding quality staff who genuinely care greet clients with warm, sincere smiles and going above and beyond to ensure one has a truly magical stay coupled with each individual property's passion for own client's tastes.
Munyonyo Commonwealth Resort has 8 well-appointed bars and restaurants. Guests looking for a luxury dining restaurant at the resort can choose from the resort's traditional, thatched, open-air dining spaces, Lakeside Grill, and the charming Viking Bar.
Unique amongst the resort are dining spaces that offer breath-taking lake views and are surrounded by fragrant, tropical blossoming trees, with the melodious sound of waves, monkeys, and birds at flight. Pass by and taste the resort's thrilling moments!
To make an enquiry or reservations for this Relax & Rejuvenate offer, you can contact Speke Group of Hotels on tel: +256-752-711-714 or +256-414-227-111.
Do you have a story or an opinion to share? Email us on: dailyexpressug@gmail.com Or join the Daily Express WhatsApp Group or Telegram Channel for the latest updates.