Victoria University Kampala (VU), Uganda's technologically-enabled university has introduced a new film making (video/audio production) course adding to a long list of its professional development courses at the university as it kicks off its September Intake this week.
In one of the notices passed out at the Victoria University website and its socials, the institution announced that the September -August intake kicks off on the 6th of September 2021 with over 1000 students already admitted to its online classes.
The management of VU exclusively told this website that the practical-based film-making course takes a duration of five weeks charged at Four hundred thousand shillings (UGX 400.000).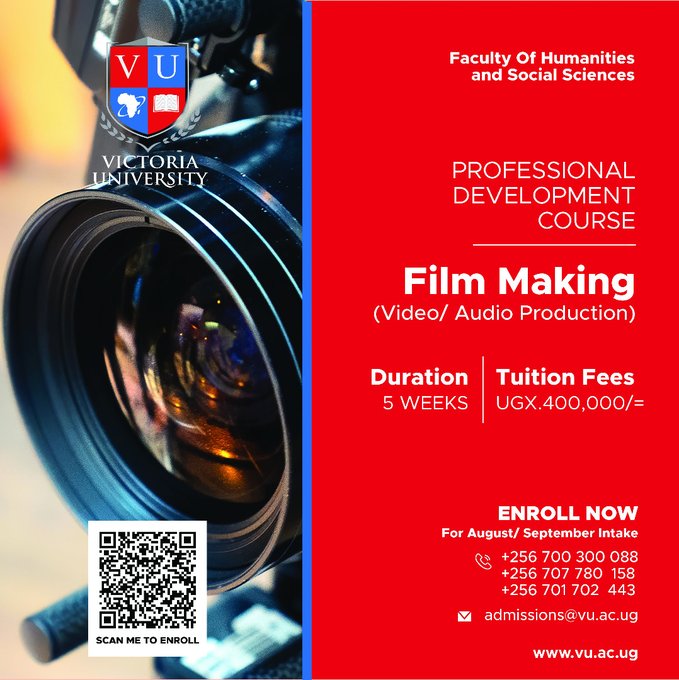 Victoria University remains the only University in Uganda that has continued operations despite the Covid-19 lockdowns. The University has further devised several means of ensuring continuity in learning after rolling out the VClass, a state-of-the-art learning management system to cater for students not only in Uganda but across Africa. The VClass adopted by VU includes the following;
1. Online classes
2. Online examinations
3. Online payments
Enroll now for work-integrated experiential learning at Victoria University which guarantees you work experience that is needed for your job application or start-up through a fresh and intellectually stimulating environment that nurtures critical thinkers.
The University was opened in August 2013 and has the capacity, facilities, and determination to revitalize higher education in Uganda and in the region. The University is committed to playing a leading role in bringing and developing high-quality education, student-centered learning opportunities based on standards of excellence that are unique, innovative, and difficult to match.
Why Study at Victoria University?
In times like these, it is important to join a university that guarantees uninterrupted learning as the COVID-19 pandemic continues to ravage the education sector to help you in the journey of achieving your dream career.
The university also provides free educational data to all students plus free books and study materials via its VClass to ensure a no-disruption and less costly digital learning environment.
VU also offers a number of Academic Programmes at postgraduate, undergraduate, diploma, foundation certificates, and professional development courses, all virtually accessible through the Vclass digital classes and continues to call on potential students (S.4 & S.6 Leavers, and upgraders) to apply for the ongoing 2021 September Intake.
The University is also a cosmopolitan university, accredited by the National Council for Higher Education with a wide range of nationalities.
To apply for the ongoing intake, visit Victoria University's newly revamped website at www.vu.ac.ug or visit the admissions office at Victoria Towers, 1-13 Jinja Road in the center of Kampala City. You can also contact them on Email: [email protected] or Tel: +256 759 996 130 or +256 700 300 088 or +256 707 780 158
Do you have a story in your community or an opinion to share? Email us on: [email protected] Or Click Here join the Daily Express WhatsApp Group or join our Telegram Channel here to stay up-to-date.