EDUCATION: Victoria University Kampala (VU), has announced that the date for commencement of its August – September Intake has been pushed to 20th Sept 2021 as it aims to registered more students amid the shambles in the education sector brought about by the covid-19 pandemic.
The initial date for the new intake was scheduled for today, September 06, but in a bid to attract more students especially S.6 vacists, the University has resolved to postpone the semester kickoff two weeks ahead to cater for these school-going children facing education uncertainties.
In an announcement posted on the University website and its socials, VU last week announced a major landmark in its September Intake with over 1000 students already admitted for Bachelors, Diploma, Postgraduate, and Professional short course programs.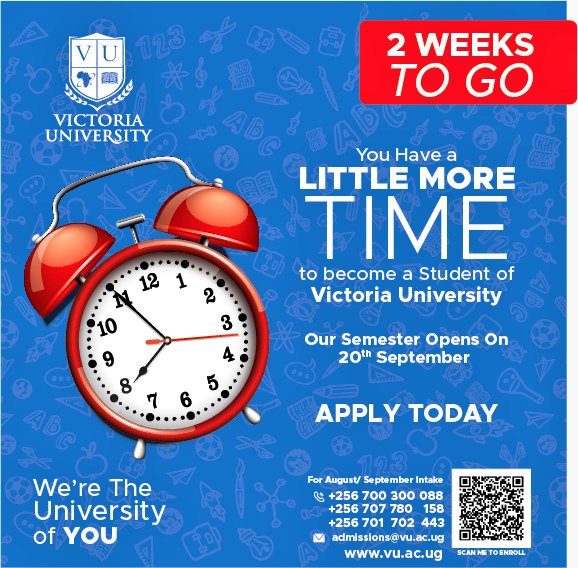 Here is why you should join Victoria University today?
In times like these, it is important to join a university that guarantees uninterrupted learning as the COVID-19 pandemic continues to ravage the education sector to help you in the journey of achieving your dream career. And this is why Victoria University remains the only higher institution in Uganda that has continued operations despite the Covid-19 lockdowns that have left the education sector in shambles.
The University has further devised several means of ensuring continuity in learning after rolling out the VClass, a state-of-the-art learning management system that caters for students not only in Uganda but across Africa. The VClass adopted by VU includes the following;
1. Online classes
2. Online examinations
3. Online tuition payments
The University is also a cosmopolitan university, accredited by the National Council for Higher Education with a wide range of nationalities.
Enroll now for work-integrated experiential learning at Victoria University which guarantees you work experience that is needed for your job application or start-up through a fresh and intellectually stimulating environment that nurtures critical thinkers.
VU also offers a number of Academic Programmes at postgraduate, undergraduate, diploma, foundation certificates, and professional development courses, all virtually accessible through the Vclass digital learning environment.
To apply for the ongoing intake, visit Victoria University's newly revamped website at www.vu.ac.ug or visit the admissions office at Victoria Towers, 1-13 Jinja Road in the center of Kampala City. You can also contact them on Email: [email protected] or Tel: +256 759 996 130 or +256 700 300 088 or +256 707 780 158
Victoria University owned by business mogul Dr. Sudhir Ruparelia is part of the Ruparelia Group of Companies, which has a strong presence in the education sector in Uganda and has under its portfolio, Kampala Parents School and Delhi Public School International.
Do you have a story in your community or an opinion to share? Email us on: [email protected] Or Click Here join the Daily Express WhatsApp Group or join our Telegram Channel here to stay up-to-date.