KAMPALA, UGANDA: Victoria University Kampala has released a statement strongly condemning the brutal arrest of their Vice Chancellor Dr. Lawrence Muganga last week on Thursday, September 2, 2021.
Muganga was arrested and whisked away in Toyota Noah vehicle together with his executive assistant Herbert Kayongo and bodyguard Barbra Nagudi.
The UPDF later would later say in a statement that the arrest by a joint security team was meant to interrogate Dr. Muganga on allegations of espionage and illegal stay in the country. However, the VC was finally released on Friday evening with no charges preferred against him despite the inhuman physical and mental torture inflicted on him, his family and the entire University community
In a statement released on Monday, September 6, Victoria University condemned the unprofessional conduct by security in the way they conducted the 'operation' but assured the public and the entire university community that everything is calm and the situation is back to normal at the campus premises.
"The university expects all staff to be law-abiding but in case they are suspected to have broken the law and have to be arrested, they should be handled in accordance with lawful procedures. The University condemns the manner of arrest of Dr. Muganga which did not follow the known lawful procedures of effecting arrest of a suspect," reads part of the statement released by Victoria University.
"The unfortunate incident happened on Thursday 2nd September 2021, when armed men in civilian clothes led by a one Denis Musumba (according to the National ID which he presented to the reception desk) entered the University premises on Plot 1-13 on Jinja Road Kampala and arrested Dr. Lawrence Muganga and his bodyguard and whisked them off in a vehicle which headed towards Nakawa direction along Jinja Road. The personal assistant to the Vice Chancellor, Mr. Herbert Kayongo took off on a bodaboda and followed the vehicle. He too was arrested. This was around 10 am," the statement read.
"The University notes with appreciation messages of support and encouragement from the wider Victoria University family and the media for keeping the ordeal of Dr. Muganga topical and demanding that the letter of the law should be upheld and the human rights of whoever resides in Uganda should be respected by security agencies. The totality of these efforts resulted in the release of Dr. Muganga and gives us reason to celebrate," the University added.
The University has however assured the public and their staff that everything is now calm and business is running as usual.
"We assure the general public, our dear staff, students and their parents and guardians that the University is calm and its programmes are running normally."
Below is the full Press Release Statement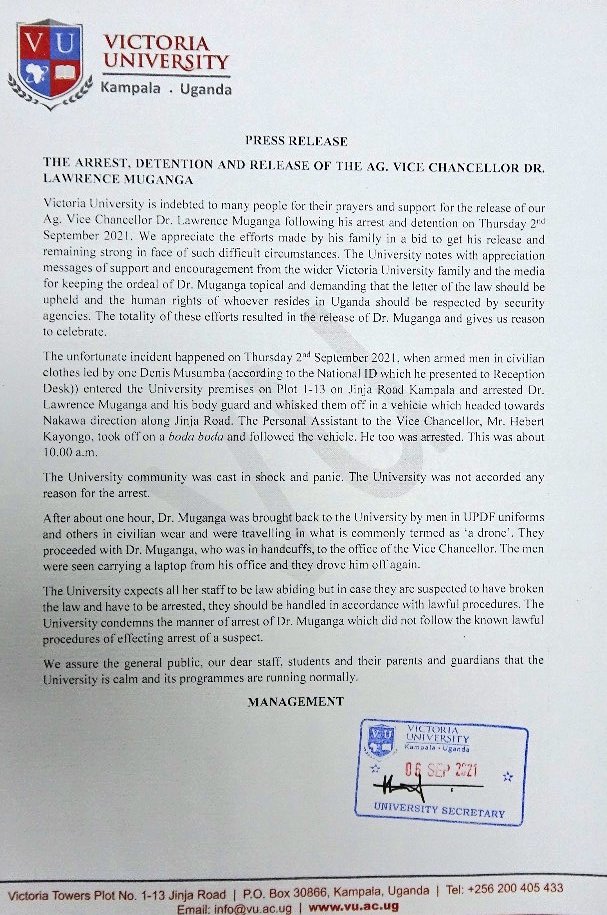 Do you have a story or an opinion to share? Email us on: dailyexpressug@gmail.com Or join the Daily Express WhatsApp channel for all the latest news and trends or join the Telegram Channel for the latest updates.