Speke Apartments Kitante, Kampala's top luxury suite for lavish staycation has announced it is offering low-budget accommodation in a bid to offer its loyal clients the chance to experience unpretentiously luxury stay at relatively affordable rates.
Speke Apartments Kitante says pass by and experience the passion of hospitality as you enjoy a king life at a monthly rate of $1500 for one bedroom apartment, two bedrooms at $2100, and a superior two-bedroom at $2300.
This price comes inclusive of Bed and Breakfast accommodation, access to the Restaurant and Bar (filled with drinks of all sorts at your own desire and taste), plus a complimentary access to the Health Club (Steam Bath, Spa, and Sauna) and the Swimming pool – all this geared to leave you refreshed, health and body-fit.
"Experience the passion of hospitality and live a king life size at Speke Apartments Kitante. For booking contact us, ☎️ +256 707 977 773 ? www.spekeapartments.com/kitante'" Speke announced via its socials.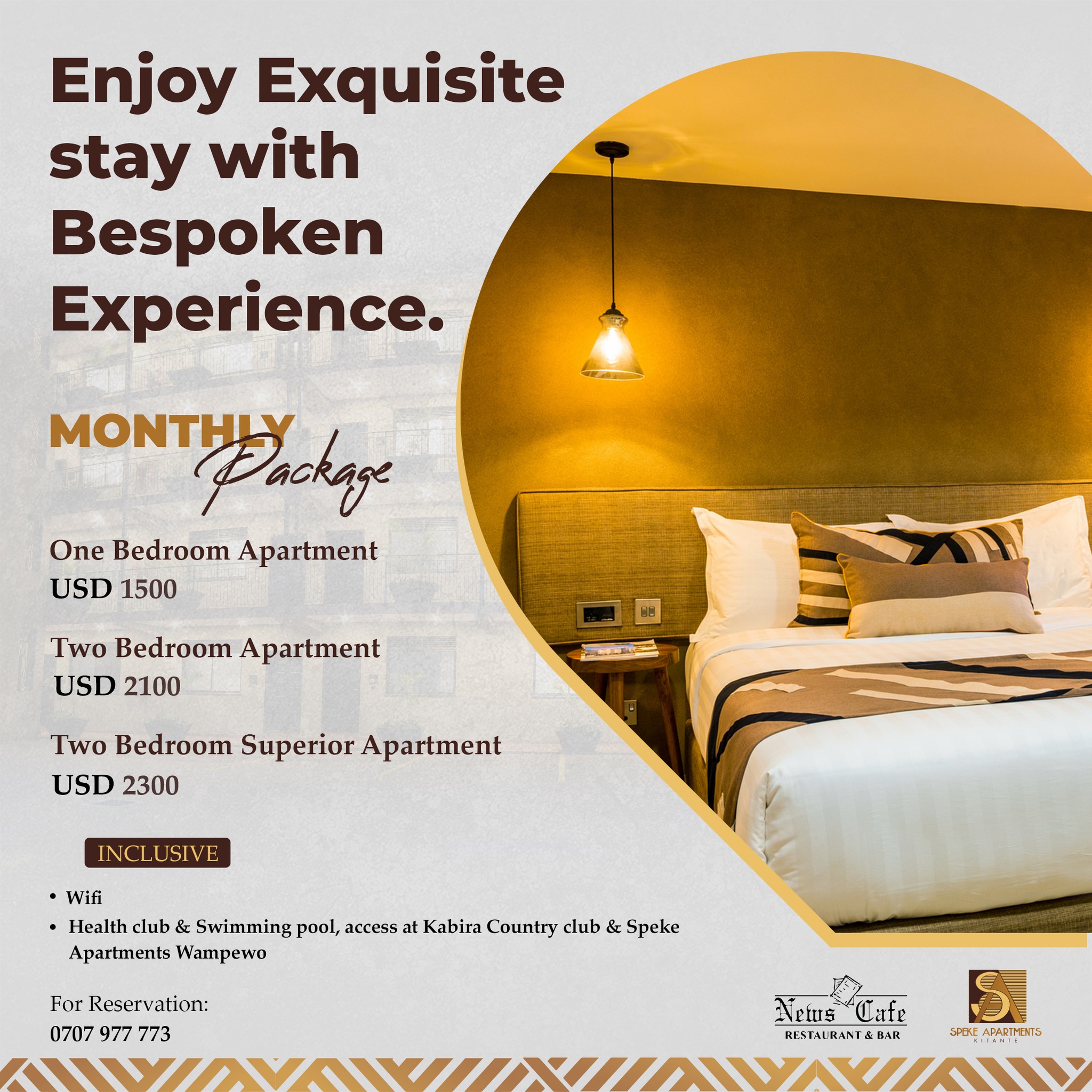 Speke Apartments Kitante, owned by the Ruparelia Group is by far ranked as an accommodation hotspot in Kampala that defines the new face of luxury and decadence in the apartments world.
Equipped with stunning living rooms, arresting furniture fitted with softly padded upholstery, high-quality fixtures, furnishing, appliances, Speke apartments Kitante by far proves to be your answer to find a pleasurable accommodation if you look forward to enjoying the beautiful scenery and exploration of Kampala city.
And with its demarcated level of accommodation, the various rooms and categories at the apartments give you a chance to choose one that fits in your budget. All their apartments have full access to complimentary WiFi, ample parking slots within the premises for residents and their guests.
All lounges at the Kitanted based apartments are equipped with wall-mounted plasma television sets linked to DStv, subtle sofa sets, and side tables while the bedrooms also have wall-mounted plasma televisions, large windows, fitted wardrobe while the bathroom boasts a frosted glass shower unit and an ultra-modern toilet and sink facilities.
Located within close proximity of the Central Business District, the apartments have convenient access to all parts of Kampala and essential social amenities.
For bookings and reservation, Contact Speke Apartments-Kitante – located off Yusuf Lule Road (Kitante Road) on Tel : +256 707977773, +256 707977774
Do you have a story or an opinion to share? Email us on: dailyexpressug@gmail.com Or join the Daily Express WhatsApp Group or Telegram Channel for the latest updates.