WAKISO, UGANDA: Police in Wakiso District have arrested four suspects over the unlawful possession of 15 wild bird species; the Marabou storks in Kasangati town council, Wakiso.
The suspects have been identified as, Masika Herbert, Mwinguzi Dick, Kato Dickson and Tumukunde Peter, all residents of Lusanja Zone in Kiteezi Parish, Kasangati Town Council, Wakiso district.
According to Kampala Metropolitan Police Deputy Spokesperson ASP Luke Owoyesigyire, the arrest followed an alarm raised by locals after the four individuals were seen trying to hide the bird species on Thursday evening.
"The local leaders of Lusanja Zone in Kiteezi Parish, Kasangati Town Council, Wakiso District, have raised concerns regarding the unlawful possession of wild species, specifically the Marabou stork by four individuals," said Owoyesigyire.
Upon receiving this information, Owoyesigyire says police were immediately informed, and as a result of the police intervention, 15 Marabou storks were successfully recovered as exhibits.
"These birds are currently in custody, awaiting further management by the Uganda Wildlife Authority (UWA), an organization responsible for the protection and conservation of wildlife," he said.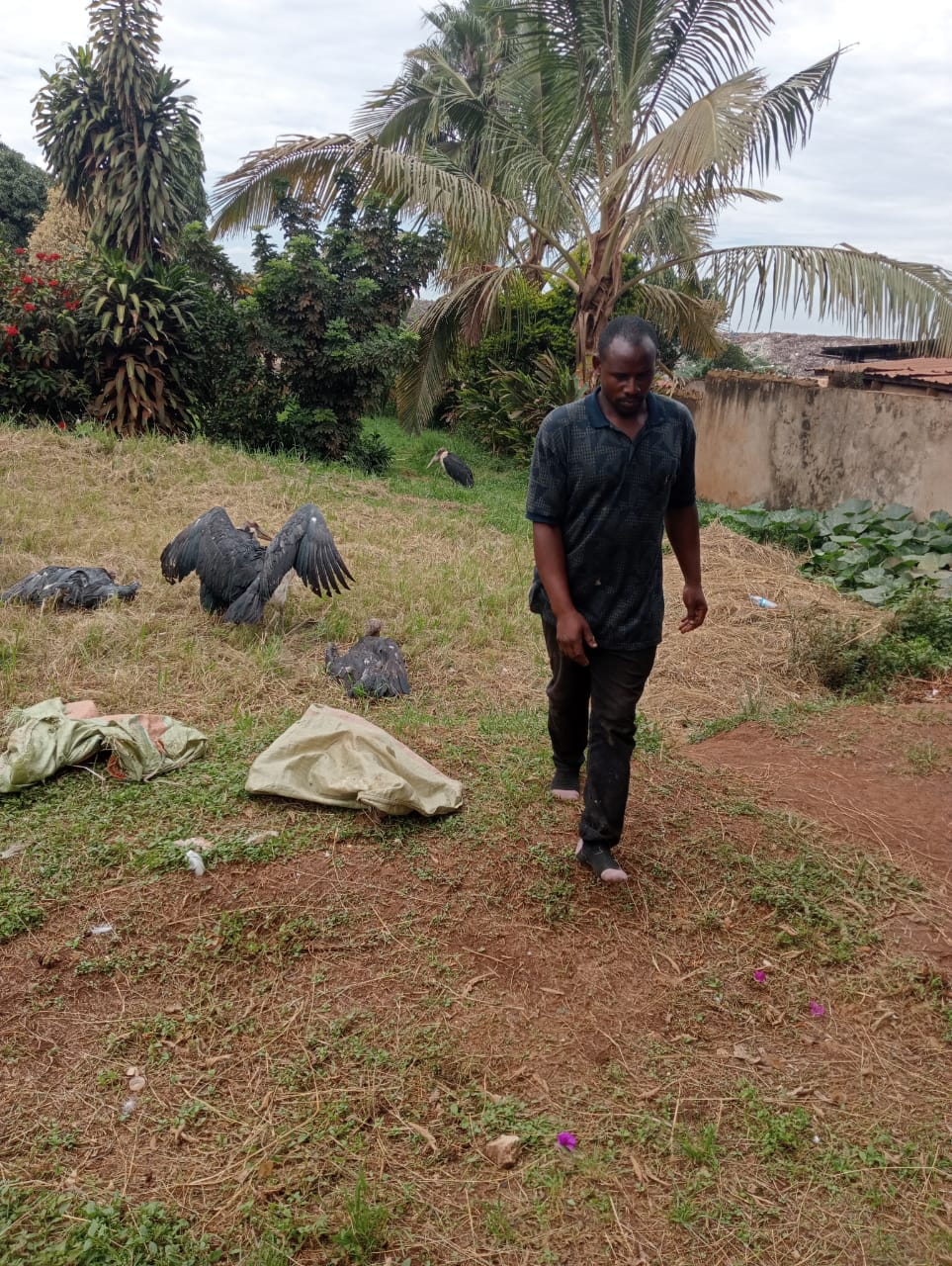 According to preliminary investigations, it is alleged that the captured birds were intended for sale to Congolese individuals who are currently on the run along with one Innocent Banaras who is believed to be the ringleader of the group currently in detention.
"It has come to our attention that there is an individual known as Innocent Banaras, who is believed to be the ringleader in this case. However, at present, Banaras remains at large. The relevant authorities are actively pursuing his apprehension," Owoyesigyire stated.
"The investigation into this matter is ongoing, and additional information will be provided as the UWA assumes control of the case," he added.
The KMP Deputy publicist condemned the illegal activity and reaffirmed the police's commitment to the protection and conservation of wildlife in Uganda.
"We appreciate the collaborative efforts of the local leaders, the area police, and the Uganda Wildlife Authority in addressing this issue promptly."
"We urge the public to remain vigilant and report any suspicious activities related to the unlawful possession or trade of wildlife to the authorities as investigations into this matter continue."
The marabou stork, locally and commonly known as Kaloli is a large wading bird in the stork family Ciconiidae native to sub-Saharan Africa. The rare bird species breed in both wet and arid habitats, often near human habitation, especially landfill sites.
the Marabou stork is sometimes called the "undertaker bird" due to its shape from behind: cloak-like wings and back, skinny white legs, and sometimes a large white mass of "hair".
Do you have a story or an opinion to share? Email us on: dailyexpressug@gmail.com Or join the Daily Express WhatsApp Group or Telegram Channel for the latest updates.