In Summary
– Media Age PR was awarded as the Best Public Relations (PR) Agency in by the Public Relations Associations Association (PRAU) of Uganda.
– Media Age PR also won the prestigious award of the Best Overall PR Campaign as well as the Best Corporate Communications Campaign award 2022-2023.
– Media Age PR scooped a total of 3 awards at the just concluded 11th edition of the PRAU Awards. The awards considered work done from January 2022 to September 2023.
Kampala, (UG): Media Age PR, a Kampala-based corporate and brand reputation management agency took home three accolades at the just concluded 2022/23 PRAU Awards.
On the awards night held last Friday at the Jinja Nile Resort Hotel, Media Age PR took home the Best Overall PR Campaign of the Year, Best Corporate Communications Award, and ultimately, the Best PR Agency of the Year accolades.
The PR Awards brought together East Africa's communications and Public Relations practitioners in a colourful dinner gala that was presided over by the First Deputy Prime Minister of Uganda, Rt. Hon. Rebecca Kadaga.
While handing over the Agency of the Year Award to Media Age, Kadaga thanked PR practitioners for their tireless work in pushing and redefining Uganda's PR landscape in her keynote address and lauded Media Age PR's efforts that had earned it 3 accolades, including the 2 most coveted awards of the night. 
"This is motivation to do more," Kadaga said while handing over the award of the Best PR Campaign of the year 2022-2023. The award was in recognition of the impressive PR campaign that Media Age PR executed on behalf of MTN Uganda for the 17th Edition of the MTN Kampala Marathon that was held in November 2022.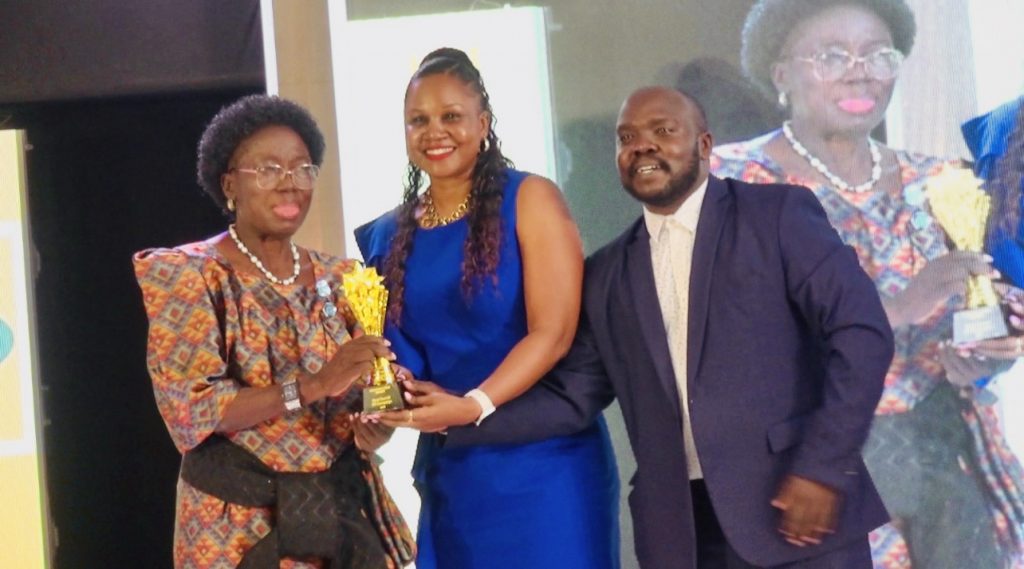 The Best corporate communications campaign was won by the 2nd Uganda-South Africa Trade and Investment Summit that happened this year. This campaign too, was executed by Media Age on behalf of its client, MTN Uganda.
John Chihi, the Managing Director and Lead Consultant at Media Age PR attributed the Agency's success to the power of strong collaboration and continuous innovation.
"We are humbled that the work that we did for our esteemed clients has been recognized and awarded, subsequently making us the best PR Agency of the year. We are surely delighted about this win and we thank our clients and media partners for making this possible," said Chihi.
With a vision to offer revolutionary versatile PR solutions that successfully manage corporate and brand reputations, Media Age PR remains committed to pushing boundaries, innovating and setting new standards for excellence in the field of public relations in Uganda.
Clients congratulate Media Age
Stella Ondimu Head of Communications for East & West Africa, Tetrapak in her congratulatory message said; "Congratulations to Mediage PR on your remarkable success! As Tetrapak, we take immense pride in your achievements and have unwavering confidence in the exceptional work carried out by our Public Relations Team."
She added; "May you continue to achieve new milestones and soar to greater heights. Congratulations on reaching this significant milestone."
Another client, Mr Samuel Matekha, Head of Marketing and Communication, Diamond Trust Bank stated thus; "Congratulations Media Age PR Team upon the befitting achievements from the PRAU Awards 2023. Through you as our Public Relations Team, we have enjoyed 8 solid years of public space peace of mind as you focused on building and sustaining a positive DTB image. Your celebration of achievement has been long overdue. Congratulations."
Enid Edroma, General Manager Corporate Services, MTN Uganda;
"Congratulations to the Media Age PR Team for mopping up all the major awards this year at PRAU. As a corporate citizen, MTN Uganda gives paramount importance to our contribution to the society, our responsibility towards our regulators and our commitment towards our stakeholders."
"The recently held SA- Uganda Trade summit was a testimony of his commitment. How would we have achieved what we did through the summit without the amazing PR team of Media Age? They helped us keep the narrative honest, they supported us with innovation, and they worked with us with such amazing commitment. Congratulations to Media Age PR for being truly the partner of the year," she added.
"My Heartfelt Congratulations to the Media Age team for winning the PR Agency of the Year Award and supporting us to win a couple of our own. At MTN, our efforts have been about creating shared value for our customers, we have always believed that we grow only when Uganda grows and that has always made us strive to create amazing social legacies like the MTN Marathon among others," said Somdev Sen, Chief Marketing officer, MTN Uganda.
"Our efforts to reach out to our society with these efforts would be incomplete without the support of the passionate team at Media Age PR working behind the scenes through amazing PR innovations, great Media relations and a great sense of ownership of the MTN brand," he added.
About Media Age PR
Media Age PR is an Agency specializing in Corporate Communication and Brand Reputation Management. The Agency has been in existence for the last 17 years and has been in the forefront of helping local, regional and international brands engage key stakeholders and tell their unique stories and experiences, not just for building equity, but also genuinely participating in activities that make real impact in the lives of people in the markets where they do business. 
Media Age is affiliated to Magna Carta, the biggest Reputation Management Group in Africa and regionally we Partner The Red House Group and Oxygene who are key players in the Kenyan market.
Do you have a story or an opinion to share? Email us on: dailyexpressug@gmail.com Or join the Daily Express WhatsApp channel for all the latest news and trends or join the Telegram Channel for the latest updates.