Nairobi, (KE): The International Police (Interpol) Unit in Nairobi, Kenya's Capital has confirmed the arrest of Dr Mathew Kirabo Wabulembo, a fugitive convicted of the murder of his lover, Desire Mirembe, then a medical student at Makerere University.
Kirabo's arrest was confirmed by a security source, who provided limited details, stating that further information would be provided on the following day.
"The Interpol found him in Nairobi, Kenya," said a high-profile police officer, adding that preparations are already underway to have the convict extradited to Uganda to face murder charges.
Kirabo's arrest marks a significant development in a case that had seen him evade capture despite being convicted in absentia by the Mukono High Court last year.
On May 30, 2022, Kirabo was convicted of the murder of Desire Mirembe in absentia by Mukono High Court Judge Henry Kaweesa. The court assessors had recommended his guilty verdict, and the judge planned to issue the sentence once Kirabo was arrested.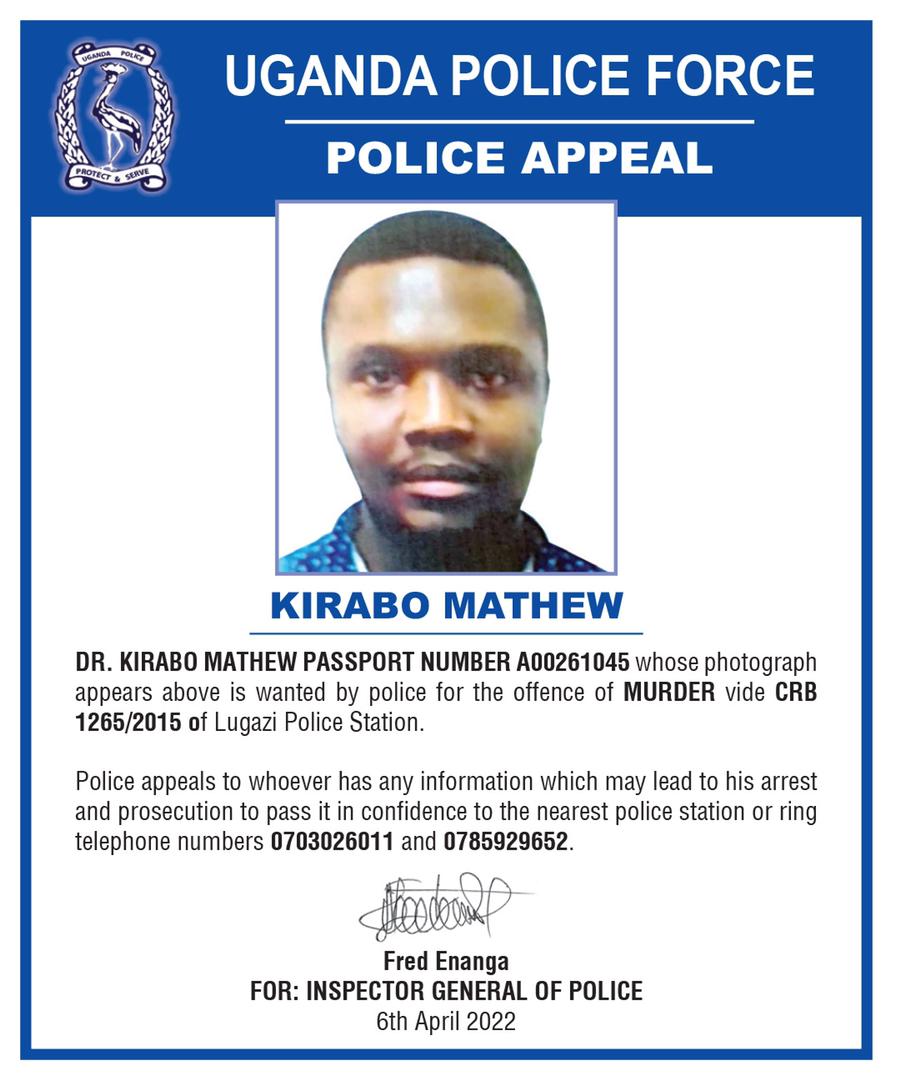 Background to the case
Desire Mirembe 19, was reportedly murdered on July 10, 2015, by her boyfriend Mathew Kirabo and her body was discovered in Lugazi sugarcane plantations in Buikwe district on July 11, 2015.
Kirabo confessed to the murder and was charged at Jinja High Court, remanded at Nalufenya prison in Jinja.
The case was then moved to Mukono High Court on the instructions of the then principal judge Yorokamu Bamwine after the state complained that the crime had been committed in the Mukono jurisdiction.
On October 6, the High Court in Mukono finally started hearing the case after 6 years.
On November 3, 2021, Kirabo absconded from court which caused the state to ask court to order his sureties to pay Shs 50 Million each and the case then proceeded without the suspect.
The arrest is seen as a huge relief for Mirembe's family which has been crying for justice since 2015.
In 2021, the High Court in Mukono ruled that Kirabo has a case to answer in the murder of Desire Mirembe.
The state adduced evidence from 15 witnesses to support the case against the suspect Kirabo.
However, after listening to all submissions and evidence by the prosecutors, Justice Kaweesa reasoned that they raise serious allegations and therefore Kirabo should come and defend himself over the claims levied against him on February 7, or prepare to make their defence on the case.
Accordingly, the judge noted that there was sufficient evidence that warrants Kirabo to prepare to defend himself and give an explanation over the accusations.
Do you have a story or an opinion to share? Email us on: dailyexpressug@gmail.com Or join the Daily Express WhatsApp Group or Telegram Channel for the latest updates.