KAMPALA, UGANDA: Victoria University Kampala and Stanbic Bank Uganda have signed a Memorandum of Understanding (MoU) to enable students acquire laptops on hire purchase basis to facilitate the University's blended learning system.
The MoU was signed on Monday, August 22 at the University's main campus on Victoria Towers in Kampala with the scheme effective immediately as the institution gears sup for the commencement of the September Intake 2022 next month.
According to Stanbic Bank Uganda Executive Director Ms. Emma Mugisha, the arrangement will provide student financing for the purchase of laptops to enable learners to carry out their research projects and other assignments.
Ms. Mugisha explained that the covid-19 pandemic drastically changed the way learning is delivered to students and since universities resorted to online teaching, some students didn't have laptops to partake in digital classes hence this financing scheme which is a long-thought future readiness solution for the problem.
"At Stanbic Bank, we say thank you so much Victoria University for being a University of the people, trying all possible to make learning easy and fruitful. We are looking forward to putting out as many laptops as needed by staff and students of Victoria University to make their learning environment better. If there is one thing we have learnt during COVID is that online learning is the way to go," said Emma Mugisha who signed the MoU on behalf of Stanbic Bank.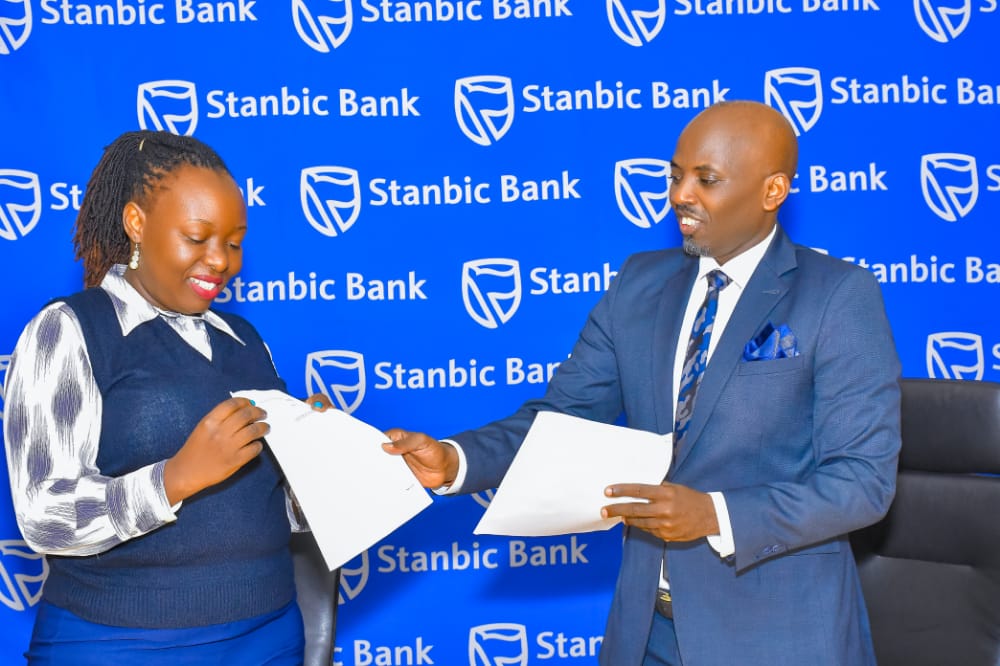 The University Vice Chancellor Prof. Lawrence Muganga, commended Stanbic Bank for willingly agreeing to support the acquisition of laptops by students eager to embrace digital learning.
According to him, the new scheme will enable students to attend to lectures anywhere, anytime, but most importantly in the new examination system that will transform the country's education sector.
"If our students cannot do digital learning, then who is going to push our country into the digital era?"
He said majority of student's population at Victoria University have the potential to take advantage of this offering and urged the student leadership to sensitize the student community to take advantage of this unique offering.
"With the computer and with data, you are truly a global citizen, you can attend classes from any university," Muganga said, adding that Africa is on the move, mainly because of the large number of young and brilliant people.
How to acquire the laptop
According to Prof. Muganga, students seeking to acquire financing for new laptops will have to do so through their parents or guardians by filling out a form obtainable at the University main campus or at any Stanbic Bank branch across the country.
The scheme will be managed through FlexiPay—an all-in-one digital solution that allows customers who have downloaded the application, to make charge free payments efficiently with real time reconciliation and easy tracking.
"With the most affordable laptop priced at UGX2.1 million, one can now access a loan and pay UGX58,000 in monthly installments over a three-year period. Parents are allowed to do early repayment of the loan without being charged," the MoU explains further.
Parents who are Stanbic Bank customers simply have to apply for an unsecured loan of up to UGX5million and once approved, the details of the student are sent to the contracted vendor who then delivers the laptop to the beneficiary.
What if my laptop is stolen or damaged?
To circumvent risks such as theft and damage, the bank will have all laptops purchased under the scheme, fully insured.
The Vice-Chancellor also reminded the students community that the University had, in a bit to make digital learning affordable, since the COVID-19 lockdown, made arrangements with MTN and Airtel to zero-rate Makerere's online platforms.
Do you have a story or an opinion to share? Email us on: dailyexpressug@gmail.com Or join the Daily Express WhatsApp Group or Telegram Channel for the latest updates.